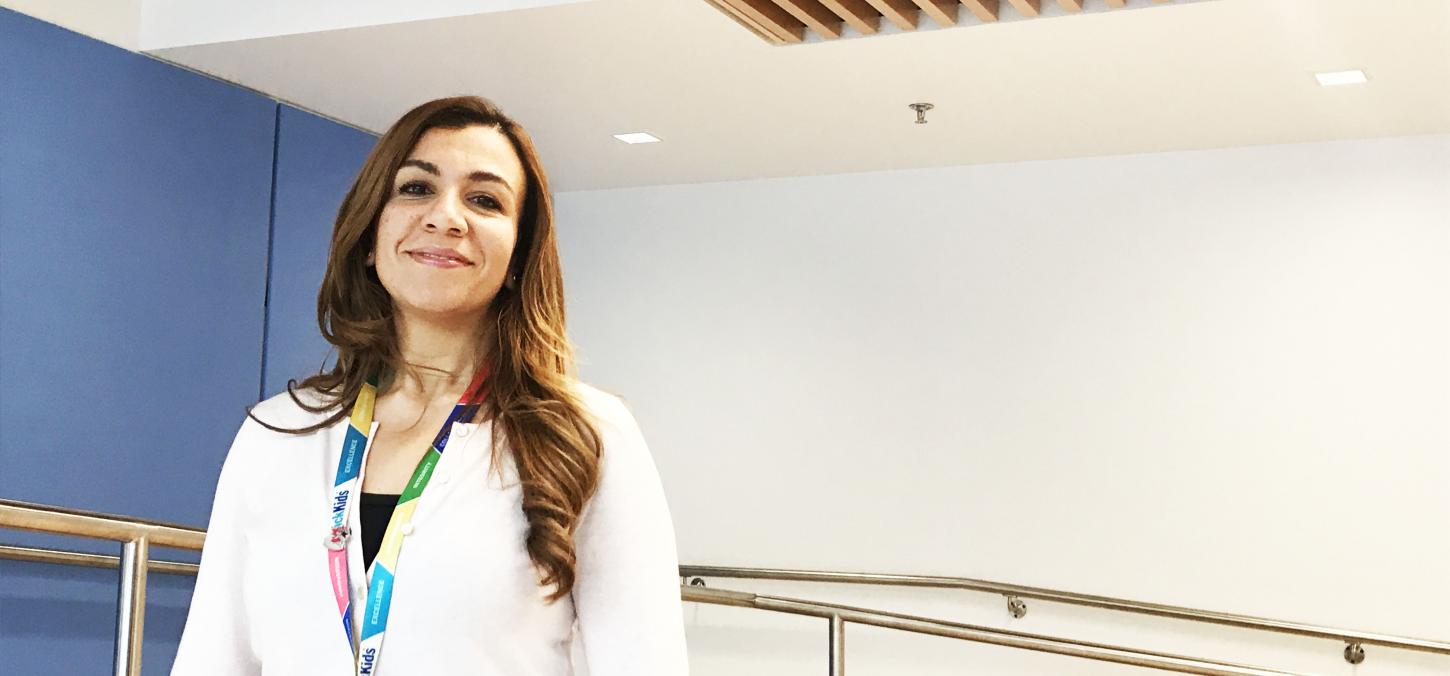 Tracking the social origins of disease: meet "cells to society" detective, Noha Gomaa
How much money you have in your pocket may be affecting your health  — right down to the immune cells of your body. So says Noha Gomaa, who this week receives her PhD in from the Faculty of Dentistry, in a collaborative public health policy program with the Dalla Lana School of Public Health.
Gomaa is a sleuth in a growing field of interdisciplinary health studies that tracks "biopsychosocial pathways" — put more simply, the impact of our environment on health. This impact reaches beyond how you feel — right to what the cells of your body are saying.
Gomaa, who has a "passion for oral health research," is also a fully trained dentist. She earned her DDS degree back in Alexandria, Egypt (her hometown) in 2005, and worked as a dentist before heading back to school, where she obtained a graduate degree in oral pathology in 2010. Soon after, in 2011, Gomaa and her family immigrated to Canada. She started her doctoral studies in 2013, and has been looking for evidence that links our social experiences with disease ever since.
Hers is the kind of science that speaks from the heart: "We know that socioeconomic inequalities exist, but we don't know why some groups are more vulnerable than others." 
A lot of research has proven, for instance, that socioeconomically disadvantaged individuals are also at higher risk for inflammation-based diseases such as periodontal disease and cancer, but until now, the biological processes at work in that vulnerability has remained elusive.
We know that socioeconomic inequalities exist, but we don't know why some groups are more vulnerable than others.
To answer that question, Gomaa took patient samples and correlated what cells— specifically, immune cells called neutrophils found in the mouth — were doing with those patients' socioeconomic status. Patient cohorts were divided into low (those who make less than $20,000 per year and are eligible for social program), medium (people who make more than $20,000 but under $75,000) and high (over $75,000 per year) income brackets.
Her findings? Extreme socioeconomic stress triggers the body's stress responses, which in turn flood your body with cortisol — the "stress" chemical. In turn, that chemical deregulates the immune system in the body, as well as several other systems.
The cohorts Gomaa studied carried the evidence of this correlation in the cells of their bodies. People from the lower socioeconomic bracket were more prone to having pro-inflammatory neutrophils, meaning there was greater risk for periodontal tissue damage and disease, compared to those from higher wage brackets.
Surprisingly, she saw relatively little difference in the range of inflammation between those from middle and high incomes. By far, the most vulnerable group was that with the lowest income, indicating that there is a financial threshold to negative health effects.
While over the course of her PhD Gomaa has targeted her research on the mouth, the link between other inflammation-related diseases is important. That's because researchers now know that the state of health of your mouth can be tied to many other diseases — from cardiovascular disease to diabetes.
"People have been looking at this in other outcomes — we know this comes up with cardiovascular disease, for instance — but this is really the first study to look at this with oral health, and with this amount of detail," says Gomaa.
And it's important to look closely at social origins of disease, argues Gomaa, because the evidence can and should help shape future health policies.
"If we're not doing something about our poor and making sure everyone has access to their basic needs, we could be facing something like a public health emergency down the line."
The importance of the research comes across through the many accolades Gomaa's research has received. Along with the Harron scholarship and James Leake bursary, she was the recipient of an Ontario Graduate Scholarship, a Queen Elizabeth Graduate Scholarship, and was awarded a CIHR (Canadian Institutes of Health Research) Fellowship in public health policy.
And she's already seeing her research affect health policies internationally: Gomaa's first publication, in Plos One, was cited in a recent policy paper on social determinants of oral health in children by the American Academy of Pediatric Dentistry.
"We are now in a stronger position to understand the nature of oral disease and its links to social and living conditions," says associate professor Carlos Quinonez, director of the graduate specialty program in dental public health at Dentistry and Gomaa's PhD supervisor. "[We] can more effectively argue for investments in disease prevention and health promotion, access to dental care, and broader policies like income security, food security, and adequate housing, to name a few, or what are commonly known as the social determinants of health."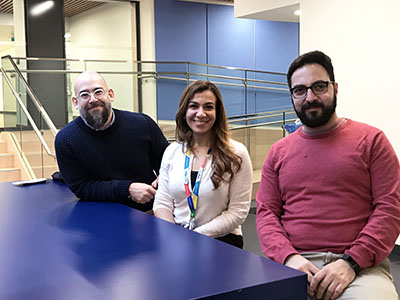 Currently, Gomaa is taking her "cells to society" approach to the next level through a postdoctoral fellowship at the Hospital for Sick Children. She's teamed up with Dr. Steven Miller, head of Neurology at the Hospital for Sick Children and professor of paediatrics at the University of Toronto's Faculty of Medicine, to study the connections between the biology of children's health from birth through childhood and their social foundations.
"The hope is that, given the oral-systemic health connection, we will be better able to understand how social adversity affects our biology as a whole across the lifespan," says Gomaa.
Images: top: Noha Gomaa; above: Gomaa with Carlos Quinonez (left), and research collaborator Massieh Moayedi (right), courtesy E. Vollick