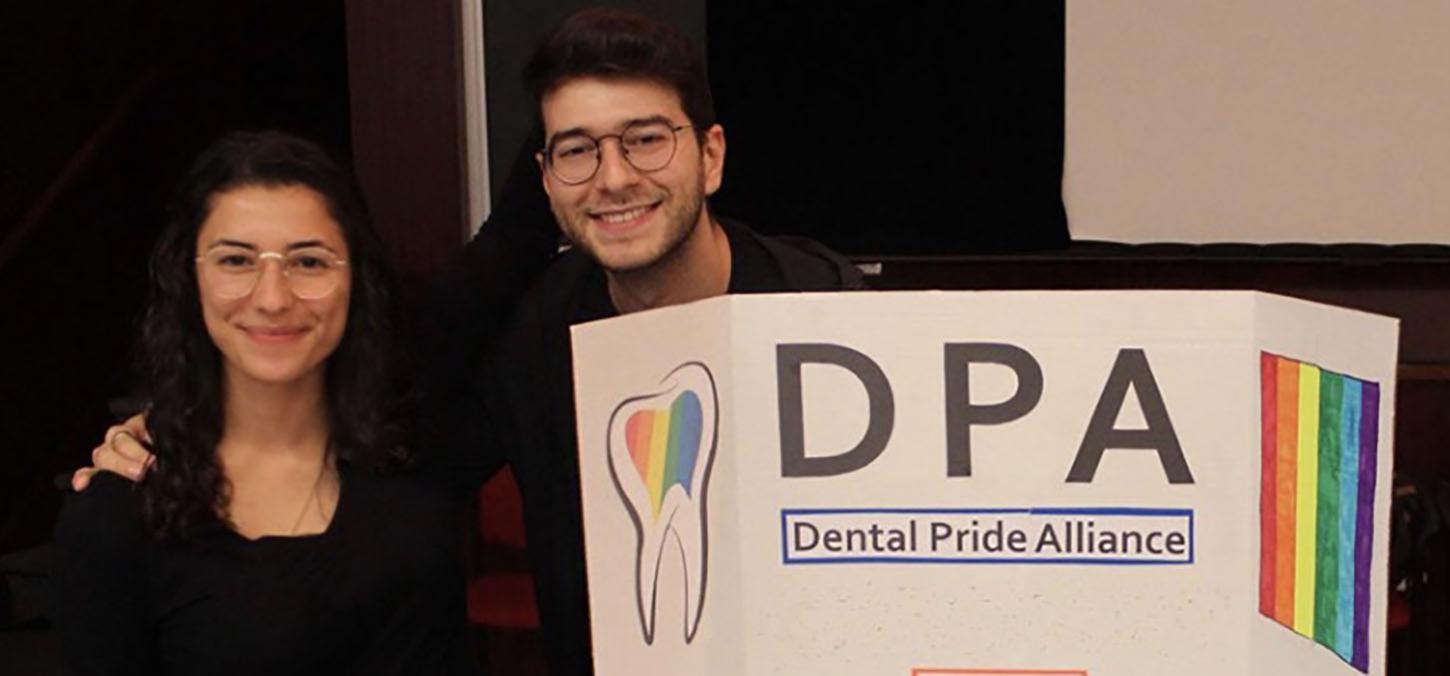 U of T Dental Pride Alliance Advocates for LGBTQ+ Community
By Rachel Boutet
While the intake for a new dental patient might be a simple process for some, for many transgender patients, the lack of options for gender or pronouns can be an isolating experience. 
This is one of the concerns the Faculty of Dentistry's Dental Pride Alliance is aiming to address. 
"One of our goals is to help all students, graduates and alumni provide an inclusive environment so patients can access the care they need without barriers or judgement," says Evan Benak (2T1), co-president of the Alliance. "We often find there is a lack of awareness and education on how to be better allies for the LGBTQ+ community. We want to give people the tools they need to take care of themselves, their queer and transgender patients, and help advocate for the community."
Education is one of the three pillars Benak and co-president Lucia Santos (2T1) are focused on, along with advocacy and community. The group was founded in 2019 when they recognized a need for education and training in the current curriculum in order to help better work with and meet the treatment needs of LGBTQ+ (lesbian, gay, bisexual, transgender, queer) patients. 
The Alliance focuses on providing an inclusive support system where dental students who are members of the LGBTQ+ community can connect, discuss concerns, and engage in an educational environment that fosters a safe learning experience. 
The Alliance has already held multiple events, including speakers about working with queer and transgender patients, updating patient intake forms and increasing awareness of different identities and pronouns. They are also approaching the Faculty in hopes of incorporating LGBTQ+ themes into the curriculum.
"By incorporating LGBTQ+ content into our courses, it will help to normalize these discussions," says Santos. "It will also give students and faculty the knowledge to help ensure patients feel welcome in our clinics, regardless of their gender or sexuality."
Building a strong community has been a major priority of the Alliance. Joint in-person events with the Temerty Faculty of Medicine, the Leslie Dan Faculty of Pharmacy and the Faculty of Law (prior to the COVID-19 pandemic), and now virtual events, have all helped foster the University of Toronto's LGBTQ+ community. While the Toronto Pride Parade is cancelled due to COVID-19, the Alliance plans to take part in 2022. 
"We want people to know the Alliance exists," says Benak. "It helps to build and find our community and show that the Faculty of Dentistry is a safe and welcoming space."
All Alliance events are public and staff, faculty, students and alumni are encouraged to attend and build their knowledge to help provide better patient care. The feedback from past attendees has been incredibly positive.
"Students in particular have been so grateful for their experience with us," says Santos. "By offering training, education, and open conversations, we are creating space for allies and an environment for continued learning. This will ultimately help make dental offices safe, inclusive and respectful, for a better patient experience."
If you would like to get in touch with the Dental Pride Alliance, please contact them via email.  
Additional resources: 
Treating the Transgender Patient 
Providing Inclusive Services and Care for LGBT People 
Enhancing Clinical Skills in Caring for LGBTQ+ Clients in a Hospital Setting
Photo: Dental Pride Alliance co-presidents Lucia Santos and Evan Benak (taken pre-pandemic and provided by Lucia Santos)