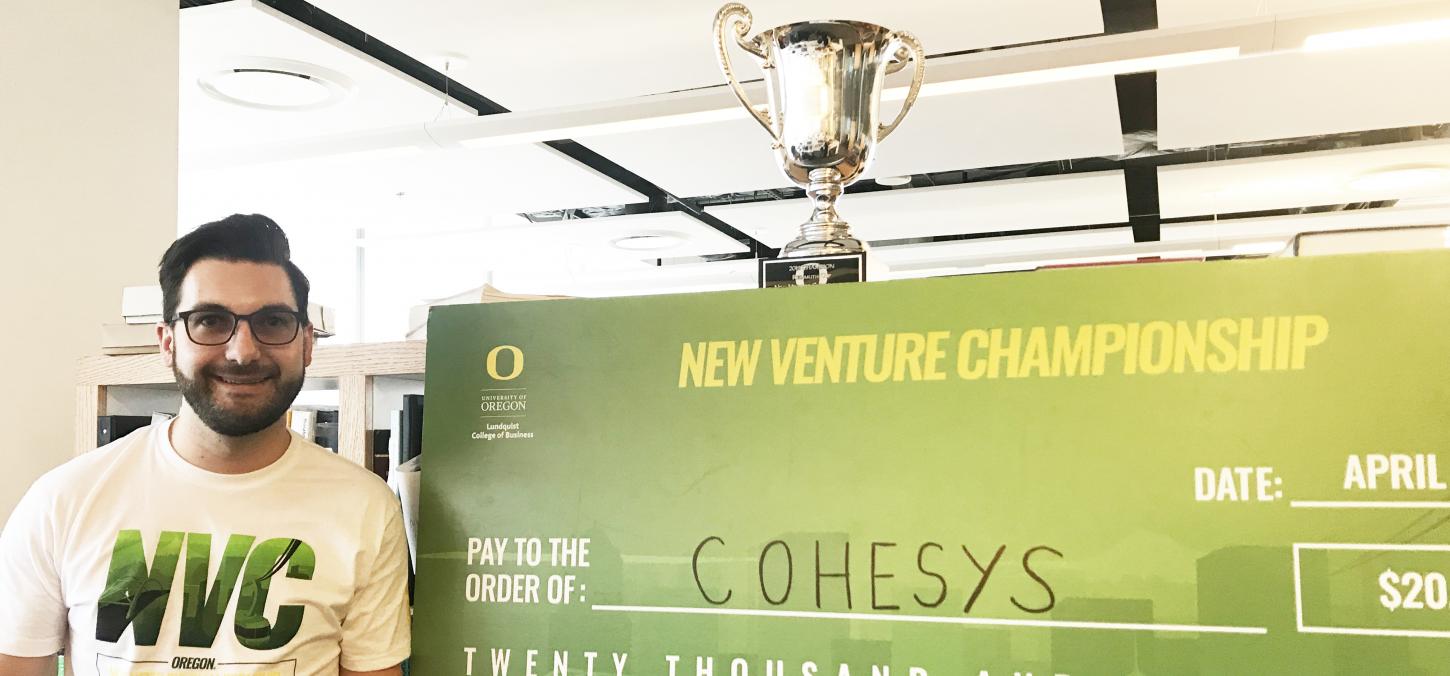 U of T Dentistry / IBBME start up Cohesys takes Venture Cup at international entrepreneurship competition
It's known as the Venture Cup: the holy grail for student entrepreneurs with a gleam in their eye, those searching not just for funds to help their budding business bloom, but for networks, advice, and a venue to test their world-class ideas against world-class competition.
And this past April, at the annual event at Lundquist College of Business at the University of Oregon, the first place $20,000 USD Cup was handed to the University of Toronto based-start up, Cohesys.
A biomedical device business spun out from the labs of professor Paul Santerre (Faculty of Dentistry, cross-appointed to the Institute of Biomaterials and Biomedical Engineering and the Ted Rogers Centre for Heart Research), Cohesys wants to bring to market a biodegradable bone tape to heal facial fractures. A "next generation" marvel of biomedical engineering, bone tape is non-toxic and breaks down gradually in the body. The hope is that it will one day replace the current tools of facial surgeons: metal plates and screws.
"There is no other tape for bones or anything similar out there."
And with its non-invasive, revolutionary technology, the tape could also vastly improve both surgical times and outcomes for facial surgery patients.
"This is the only adhesive that sticks to wet bone," says Michael Floros, Cohesys CEO and recent IBBME postdoctoral fellow, who represented the company at the event.
"There is no other tape for bones or anything similar out there."
Accompanying Floros were two fellow scientist/entrepreneurs from the company: postdoctoral fellow Alex Lausch, a recent graduate from IBBME, and postdoctoral fellow Michael Tessier, a recent MBA graduate from the Ivey Business School at Western University.
Cohesys was chosen as one of sixteen finalists, which drew teams from as far away as the Philippines. The competition involved six separate pitches conveyed to a jury of engineers, businessmen and medical experts, including a 1 minute "elevator pitch," a business plan pitch and the longest round, the "30 minute pitch."
The Venture Cup, though, was the icing on the cake for the intrepid scientist- businessmen.
The team recently took first place at the RBC Prize for innovation and entrepreneurship, a competition held at UofT this past spring, beating out a host of other start-ups for the $10,000 prize.
In fact, the company's pitch has been so successful they've reached their first major funding milestone: the one-year old company is closing on over USD $1 million of investment capital, which will enable them to progress on developments needed to obtain FDA approval for their product. They hope to hit the US biomedical market no more than a year and a half later.
"It has been impressive to see the advancements made by Michael Floros and his entrepreneurial team at Cohesys as they have continued to hit critical milestones needed to advance this paradigm shifting technology," says Santerre.
So what's the secret to their success?
"Find a way to communicate your idea to a very general and broad audience while still acknowledging the significance of it," says Floros.
Not content to rest on their laurels, Cohesys's leaders are already looking ahead to their next tech entrepreneurship competition: the TiE50 awards at TieCon, which runs each spring in the San Francisco Bay Area.
Photo: Michael Floros with the Venture Cup, courtesy Erin Vollick