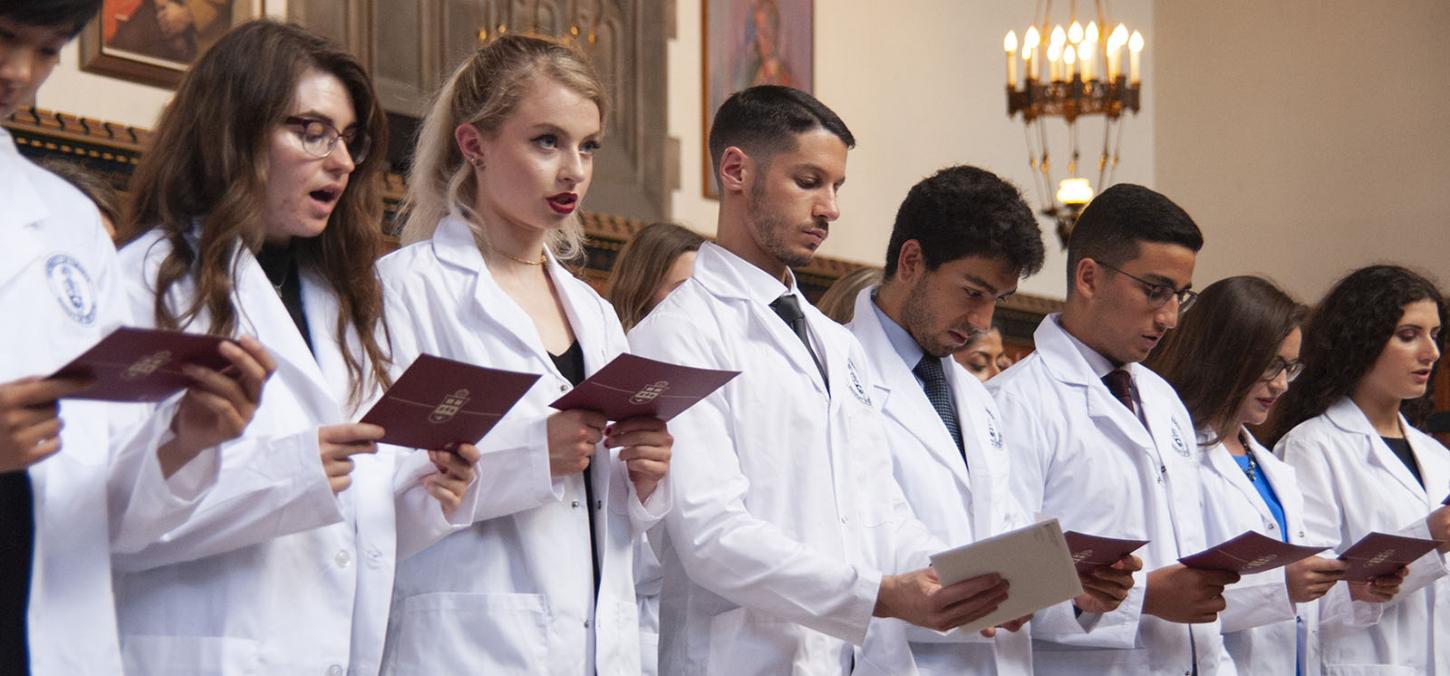 Welcoming the DDS Class of 2T2
During a stirring White Coat ceremony held at Hart House this past August 28, the new DDS Class of 2T2 promised to always put "patients first." The ceremony was presided over by dean Daniel Haas and Student Life director, Richard Rayman, and included guest speakers Ronald Yarascavitch, president of the Royal College of Dental Surgeons of Ontario, David M. Stevenson, president of the Ontario Dental Association, and Bonnie Chandler, president of the Ontario section of the American College of Dentists.
Witnessed by family and friends, faculty and staff, the event orients the incoming class to the ethical rigour demanded of their chosen profession, as well as the high standards of conduct that will be required from each of the students from now on.
During her speech, Chandler, herself an alumnus from the class of 8T2, urged the incoming class to "Always do the right thing, and do it even if no one is watching."
And while the ceremony represents an important rite of passage for the new class members, we also collected a few words of sage advice from faculty and clinical instructors to help the new students find success in the days ahead:
James Posluns, assistant dean and director of clinics, class of 9T1, Dip. Orthodontics, 9T8:  Listen to the clinic director! No, just kidding — listen to that inner voice. It's usually right.
Sally Abuklam, clinical instructor, class of 1T4:  Don't regret anything. Everything happens for a reason.
Lynn Tomkins, clinical instructor, class of 8T1:  Look after yourself. Be well-rested, be well-nourished. Get regular exercise. Stay in touch with your family ­—all the things your mother told you!
Ernest Lam, associate dean, graduate studies:  Listen to the professors. They know what they're talking about!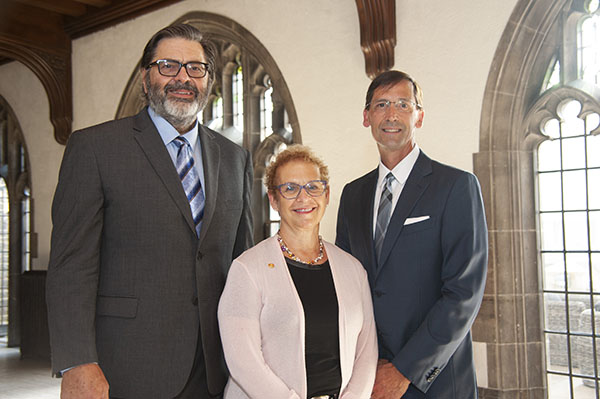 Ron Yarascavitch, president, Royal College of Dental Surgeons of Ontario, class of 7T6:  Hang in there. Even if you have to practice a procedure over 20 times until you get it right, keep at it. You will share a deep bond with your classmates and will recognize that you need to help each other. The staff are also more than willing to help — don't be afraid to ask for it.
Karen Burgess, assistant professor, class of 8T5, Dip. oral pathology and medicine 9T5:  Have fun! Get involved with all the activities you can. Make friends. Some of the people from your class will be your friends for life.  
David M. Stevenson, president, Ontario Dental Association, class of 8T6:  Always treat your patients with kindness and fairness and you will be richly rewarded by your career.
Andrew Coburn, clinical instructor, class of 8T0:  I would tell the students to enjoy it. Breathe deeply and get involved in sports, in activities — it makes getting through dentistry much easier, and makes it all so much better.
Marco Caminiti, specialist, assistant professor and director, graduate program in oral and maxillofacial surgery, Dip. Oral and Maxillofacial Surgery class of 9T8:  Always keep your nose clean. And live and let live — count to 10 if things are getting heated. 
Ezster Somogyi-Ganss, assistant professor, MSc prosthodontics class of 1T3:  You shouldn't ever be scared to ask for guidance or advice. The Faculty are very welcoming and just want to help.
See more photos from the White Coat Ceremony. 
Photos: Jeff Comber, Marisa Curmi, IITS