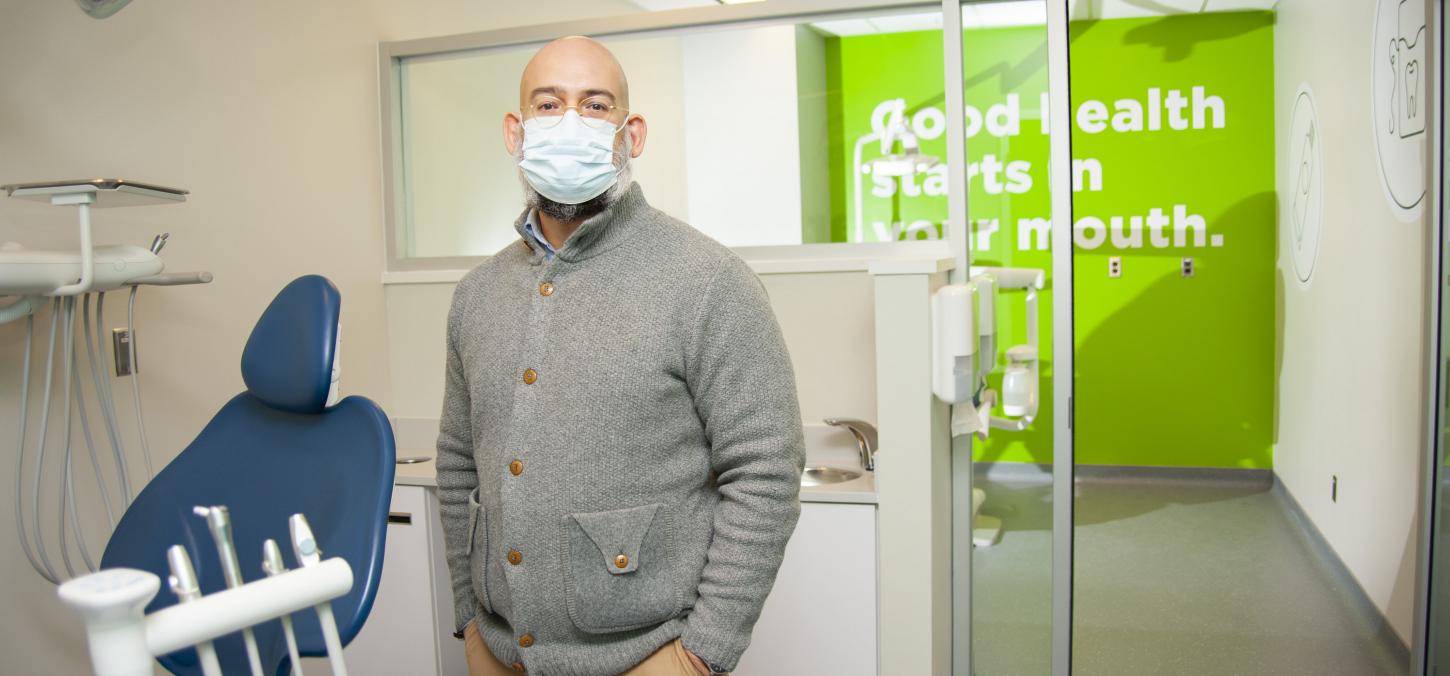 What are the One Smile research program and Green Shield Canada Clinic?
A Q & A with associate professor Carlos Quiñonez
With their philanthropic gift of $6.15 million, Green Shield Canada (GSC), through its Green Door Project, will fund the One Smile research program as well as the creation of the Green Shield Canada Clinic, to be housed within the Faculty of Dentistry at the University of Toronto. The clinic represents a unique cost-free clinical care environment for working poor families of the GTA and will at the same time represent the largest dental public health research program investigating the impacts of access to dental care in Canadian history.
To better understand the scope of the project and its intended goals, we sat down with its lead, associate professor Carlos Quiñonez, who is also director of the graduate specialty training program in dental public health at the Faculty of Dentistry.
Why build the Green Shield Canada Clinic?
This clinic is the crown jewel of a research program. It's the central study of a larger research program aimed at informing policy debates around the universal coverage of dental care in Canada, and maybe even around the world.
We want to determine how access to dental care impacts individuals, their families, the healthcare system, and society overall. Part of this is to estimate how much it would cost to cover dental care in a universal fashion, or what might be gained by expanding the coverage of dental care in Canada.
How many people will the Green Shield Canada Clinic serve?
We are trying to get as much care to as many working poor families as possible. The goal is between 1,500 and 2,000, but we could go a little higher. Those numbers would be roughly the same as a regular dental clinic.
What will patients experience?
First, they will experience a process that assesses whether they qualify to be part of the clinic. Patients we recruit will have experienced a cost barrier to dental care in the past two years other than for emergency care, alongside some other characteristics such as their overall health status. Once recruited, those patients will receive dental care and undergo a series of surveys about their experiences over time.
We will continuously undertake repeated measures, including taking biological samples: blood, saliva, and plaque, as we think that receiving dental care can even have biological impacts, such as reducing levels of stress and inflammation in the body.
We will be hiring a dentist. Care will be delivered to these individuals and their families, with no cost to them. We will be providing basic care: exams, dental cleanings, fillings, crowns, dentures and the like. The heads of the Faculty's dental specialty programs have also indicated their support for our patients if they need specialty care. But we hope that most of the care can be done by our general dentist.
"We want to know whether providing people access decreases burdens on the healthcare system"
What will these measures try to determine? What is the purpose of the clinic?
We are very interested in understanding what access to care does at many levels. Stress and inflammation are particularly interesting, as there are connections with disease. For instance, we know that the severity of oral disease will be more when an individual is stressed. We want to see what the implications might be for their systemic health as well — if the levels of oral disease in your mouth are lower, might your overall health improve?
Also, we will look at what access to care means in terms of your ability to function well in life.
Does better oral health put you in a position where you might be better prepared to secure work? What about family functioning? It can't be all that peaceful when you and/or your children have toothaches. Think about how that might affect getting a good night's rest, for example.
And back to the individual: Can you eat well? How's your nutritional status? Can you chew? What about your self-esteem?
We'll also be looking at impacts on the healthcare system. We know people who can't access dental care go to hospital emergency departments of their physician. We want to know whether providing people access decreases burdens on the healthcare system.
Then there's economic productivity, or "human capital": Can you improve your employment status, for example?
Essentially, we hope to estimate the return on investment on dental care. For every dollar put into a universal or targeted program for accessing dental care, what might government or society get in return? A home run would be getting more in return than what is invested.
But this cannot be just an issue that turns on an economic rationalization. While cost savings would be wonderful, policy decisions are more than that. There are a number of rationalizations for why we should provide better access to dental care in Canada. There are humanitarian reasons, for example. People should have the ability to relieve their pain without experiencing cost as a barrier to care. After all, we are Canada, and we are proud of fair and reasonable access to health care, so why not dental care?
How many years will the program operate?
We plan to follow people over a five-year period. Yet, given the COVID-19 pandemic – which has only made our research that much more important given the loss of jobs and income – this has slowed the rollout of our program, so this means that will likely operate for six to seven years. We won't even begin recruiting people until we're well into the first year.
How many people will be employed by the project?
For clinic staff, we'll have one dentist, one hygienist, one dental assistant, and one front desk person.
But we'll also have a number of other key collaborators in the project: 13 established, mid and early career scientists, research associates and student researchers in all, whose expertise and training spans public health, oral epidemiology, social epidemiology, immunology, periodontology, health economics, health policy, and more.
What do you hope the impact of this gift — and this program — will be?
This represents the largest research gift in the dental public health area in Canadian history. The University of Toronto's Faculty of Dentistry is a longstanding leader in this area, and this will only strengthen us. When I speak to colleagues in the U.S., for example, they are very excited by this project, as this can inform their policy debates, as well.
The program will create opportunities for people to learn, too. It will attract excellent research trainees, and, ultimately, dental students will also benefit, as they come to see the value that dental care can provide the people who need it the most. The work really does have a lot of meaning.
The ability to give people real care while we achieve some exciting research is pretty much a home run, too. If you've ever experienced acute tooth pain, or a periodontal infection and you do not have the financial means to access care, you know that that can be a soul crushing position. Imagine if your child was in that position, and you couldn't secure care for them.
In the end, I hope we get to help some people, but also create a compelling policy package for governments. Not to convince governments that they should expand coverage for dental care, but to help them arrive at decisions based on evidence – not on assumptions, but on evidence and good research.
Read more on the historic gift from GSC and the Green Door Project to dental public health research
Photo: Associate professor Carlos Quiñonez in the Green Shield Canada Clinic (Jeff Comber)