Alumni Events
From raising a glass to our honorees at the Awards of Distinction Gala, to learning from old friends and classmates at exciting scientific and professional conferences and Class Reunion events, the Office of Advancement & Alumni Relations programs a wide variety of educational, social and professional events for Alumni throughout the year. Here are some upcoming events to add to your calendar. Looking forward to seeing you there!
Click here to visit the Gala site
Events
3rd Annual Grad Prostho Alumni Day
124 Edward Street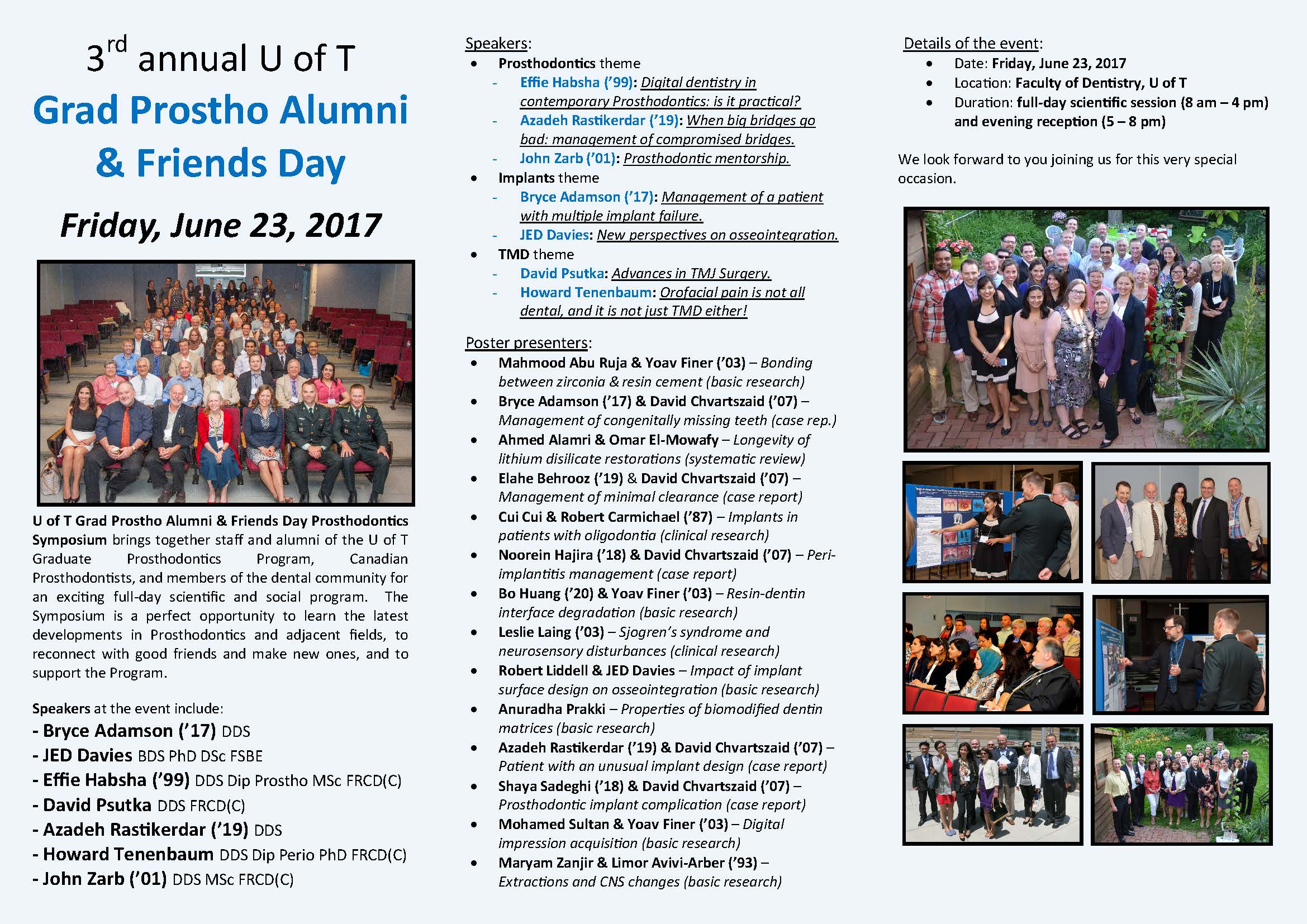 Events
Endodontics Alumni Day & Graduation Banquet
Faculty of Dentistry, 124 Edward Street, and St. Andrews Club & Conference Centre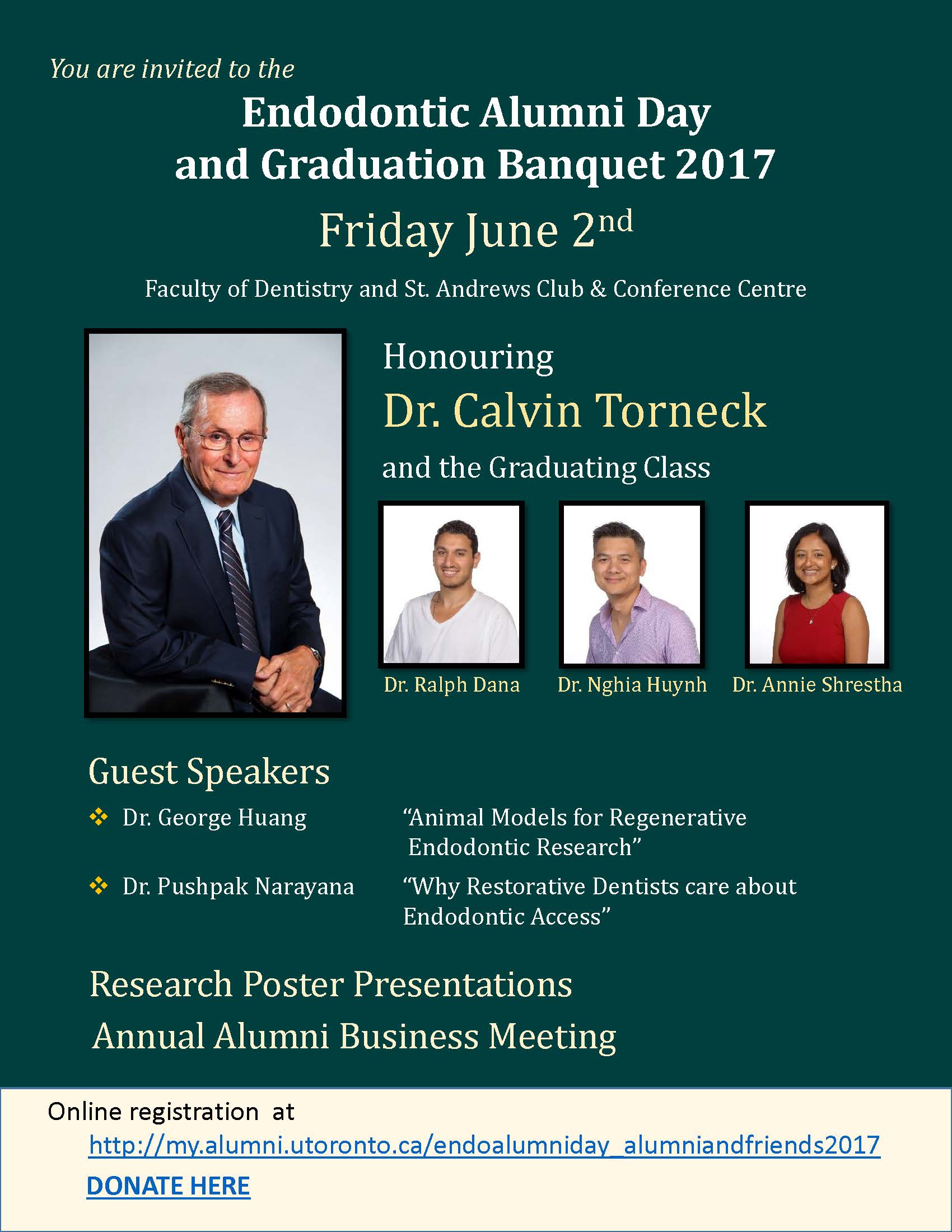 Dentantics 2017: Dentanflix
Isabel Bader Theatre, 93 Charles St W, Toronto, ON M5S 1K6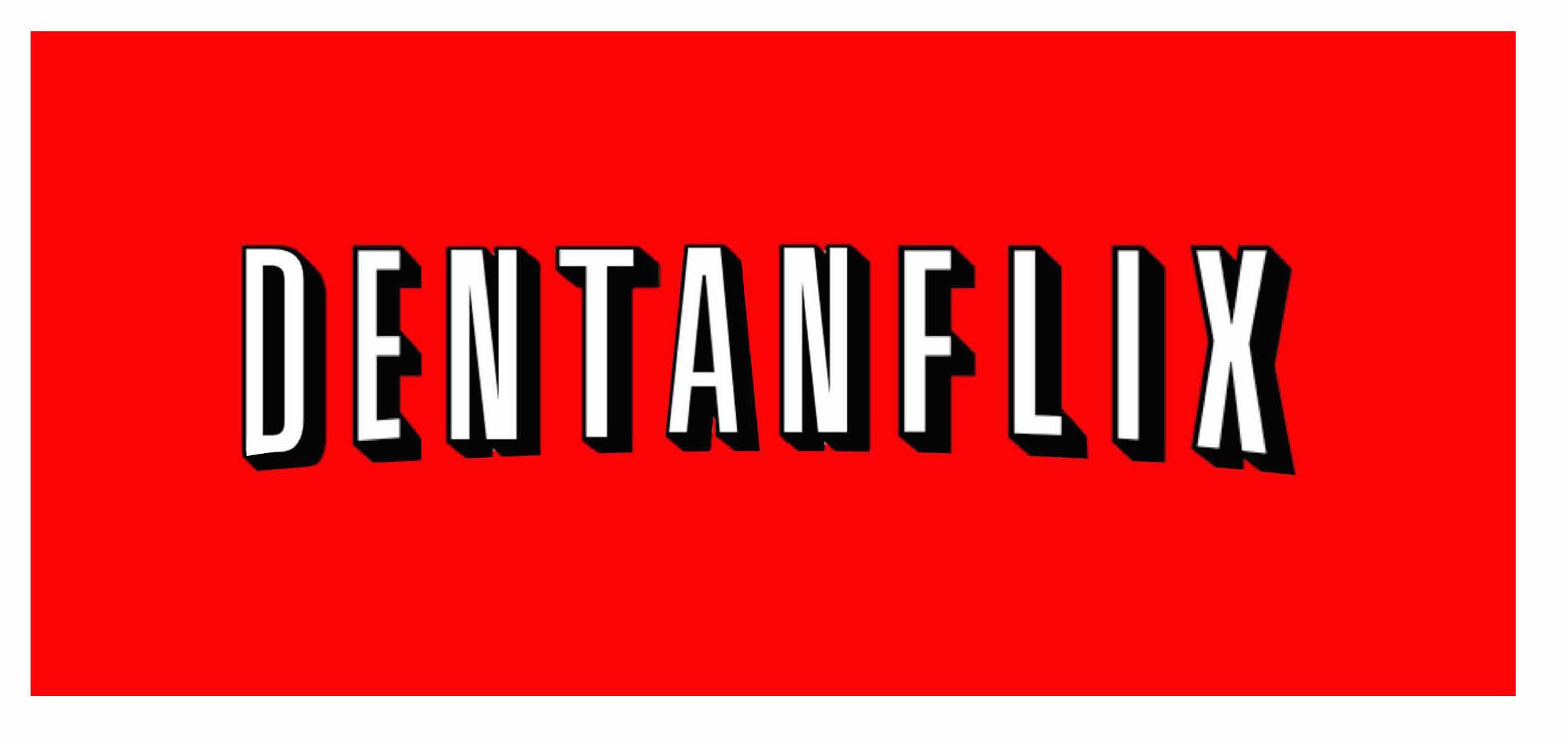 Come join your favourite 400 friends for a cozy night of music, dance, and dental-related hilarity*

Dates: Thursday, March 16th and Friday, March 17th 
Start time: 7pm
Doors open: 6:30pm
Location: Isabel Bader Theatre
93 Charles St W, Toronto, ON M5S 2C (right at Museum station)

Tickets on sale March 6-10 and March 13-15 in the lobby, 124 Edward Street, or ONLINE -- $20 
Facebook event: https://www.facebook.com/events/261579064285897/?notif_t=plan_user_joined&notif_id=1488241859292907
Promo video:
https://www.youtube.com/embed/yMJDTmwWZEc
*onesies encouraged
Events
ODA Annual Spring Meeting
Metro Toronto Convention Centre South Building 222 Bremner Blvd., Toronto
Stop by the UofT Dentistry booth and chat with Dean Daniel Haas 12 – 2 p.m. on Thursday. 
Events
Vancouver Alumni Reception
Pan Pacific Vancouver Hotel 300-399 Canada Place Vancouver
Dean Daniel Haas invites you to join him and your fellow alumni for a cocktail reception.  Whether you live on the west coast or you're in town for the Pacific Dental Conference, we look forward to seeing you. RSVP by March 2 to miriam.stephan@dentistry.utoronto.ca
Events
Gala 2017
Sheraton Centre
Join us for the 2017 Access to Care Gala in recognition of our Awards of Distinction 2017 winners. This event is also a fundraiser for the Access to Care and Teaching Clinics Funds at the Faculty of Dentistry.  Visit our Gala 2017 page for more details.