Annie
Shrestha
B.D.S., M.S.c., Ph.D.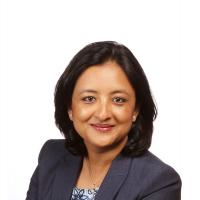 Main Appointments
Assistant Professor, Faculty of Dentistry
Email
annie.shrestha@utoronto.ca
Dr. Shrestha is an expert in biophotonics and nanomaterials. Using antibacterial nanoparticle technology, Dr. Shrestha is developing novel solutions to tooth infections and tooth sensitivity. Shrestha has commercialized some of this technology through Oral Antibacterials Inc., a start-up company founded with UofT Dentistry Professor Anil Kishen.
Research & Clinical Specialties
Select Publications
Photoactivated rose bengal functionalized chitosan nanoparticles produce antibacterial/biofilm activity and stabilize dentin-collagen. Shrestha A, Hamblin MR, Kishen A. Nanomedicine. 2014 Apr;10(3):491-501.
Antibacterial Nanoparticles in Endodontics: A Review. Shrestha A, Kishen A. J Endod. 2016 Oct;42(10):1417-26.
Photoactivated polycationic bioactive chitosan nanoparticles inactivate bacterial endotoxins. Shrestha A, Cordova M, Kishen A. J Endod. 2015 May;41(5):686-91.