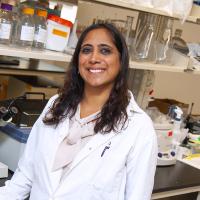 Rank
Associate Professor
Interim Associate Dean, Undergraduate Education
Email
Anuradha.Prakki@dentistry.utoronto.ca
Through her research, Dr. Prakki investigates and develops stronger, longer-lasting restorative materials, and evaluates their interaction with surrounding tissues.
Research & Clinical Specialties
Distinctions
DENTSPLY global clinical case contest – national award tutoring the student Yi-Shan Liu (2018)
W.W. Wood Award for Excellence in Dental Education (2017)
Dr. A. Bruce Hord Master Teacher Award for Excellence in Teaching (2013)
Select Publications
Alreshaid L, El-Badrawy W, Lawrence HP, Santos MJ, Prakki A. Composite versus Amalgam Restorations Placed in Canadian Dental Schools. Oper Dent. 46(6):621-630; 2022.
Stavroullakis AT, Goncalves LL, Levesque CM, Kishen A, Prakki A. Interaction of epigallocatechin-gallate and chlorhexidine with Streptococcus mutans stimulated odontoblast-like cells: Cytotoxicity, Interleukin-1β and co-species proteomic analyses. Arch Oral Biol. 131:105268; 2021.
Bortolatto JF, Buzalaf MRA, Ebrahimi J, Floros MC, Ho M, Prakki A. Methacrylation of epigallocatechin-gallate for covalent attachment with a dental polymer. Dent Mater. 37(12):1751-1760; 2021.
Bafail A, Carrilho MR, Kishen A, Prakki A. Effect of protease inhibitor specificity on dentin matrix properties. J Mech Behav Biomed Mater. 109:103861; 2020.
Bafail A, Azizalrahman M, Vilde T, Kishen A, Prakki A. Alternative model for cathepsin K activation in human dentin. Dent Mater. 35(11):1630-1636; 2019.
Prakki A, Xiong X, Bortolatto J, Goncalves L, Bafail A, Anderson G, Stavroullakis A. Functionalized epigallocatechin gallate copolymer inhibit dentin matrices degradation: mechanical, solubilized telopeptide and proteomic assays. Dent Mater. 34(11):1625-1633; 2018.
Stavroullakis AT, Carrilho MR, Levesque CM, Prakki A. Profiling cytokine levels in chlorhexidine and EGCG-treated odontoblast-like cells. Dent Mater. 34(6):e107-e114; 2018.
Agee KA, Prakki A, Abu-Haimed T, Naguib GH, Nawareg MA, Tezvergil-Mutluay A, Scheffel DL, Chen C, Jang SS, Hwang H, Brackett M, Grégoire G, Tay FR, Breschi L, Pashley DH. Water distribution in dentin matrices: bound vs. unbound water. Dent Mater. 31(3):205-16; 2015.