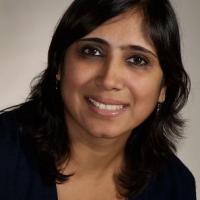 Email
Anuradha.Prakki@dentistry.utoronto.ca
Through her research, Dr. Prakki investigates and develops stronger, longer-lasting restorative materials, and evaluates their interaction with surrounding tissues.
Research & Clinical Specialties
Distinctions
DENTSPLY global clinical case contest – national award tutoring the student Yi-Shan Liu (2018)
W.W. Wood Award for Excellence in Dental Education (2017)
Dr. A. Bruce Hord Master Teacher Award for Excellence in Teaching (2013)
Select Publications
Bafail A, Carrilho MR, Kishen A, Prakki A. Effect of protease inhibitor specificity on dentin matrix properties. J Mech Behav Biomed Mater. 109:103861; 2020.
Bafail A, Azizalrahman M, Vilde T, Kishen A, Prakki A. Alternative model for cathepsin K activation in human dentin. Dent Mater. 35(11):1630-1636; 2019.
Prakki A, Xiong X, Bortolatto J, Goncalves L, Bafail A, Anderson G, Stavroullakis A. Functionalized epigallocatechin gallate copolymer inhibit dentin matrices degradation: mechanical, solubilized telopeptide and proteomic assays. Dent Mater. 34(11):1625-1633; 2018.
Stavroullakis AT, Carrilho MR, Levesque CM, Prakki A. Profiling cytokine levels in chlorhexidine and EGCG-treated odontoblast-like cells. Dent Mater. 34(6):e107-e114; 2018.
Brito C, Stavroullakis A, Oliveira T, Prakki A. Cytotoxicity and potential anti-inflammatory activity of velutin on RAW 264.7 cell line differentiation: Implications in periodontal bone loss. Arch Oral Biol. 83:348-356; 2017.
Zarella BL, Buzalaf MA, Kato MT, Hannas AR, Salo T, Tjäderhane L, Prakki A. Cytotoxicity and effect on protease activity of copolymer extracts containing catechin. Arch Oral Biol. 65:66-71; 2016.
Agee KA, Prakki A, Abu-Haimed T, Naguib GH, Nawareg MA, Tezvergil-Mutluay A, Scheffel DL, Chen C, Jang SS, Hwang H, Brackett M, Grégoire G, Tay FR, Breschi L, Pashley DH. Water distribution in dentin matrices: bound vs. unbound water. Dent Mater. 31(3):205-16; 2015.