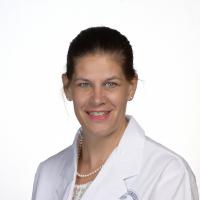 Rank
Associate Professor, Teaching Stream
Other Appointments
D.M.D., M.Sc. (Prostho), Ph.D., F.R.C.D.(C)
Email
e.s.ganss@dentistry.utoronto.ca
A prosthodontics specialist, Dr. Somogyi-Ganss also has expertise as a maxillofacial prosthodontist, which she utilizes at Sunnybrook Health Sciences Centre's Craniofacial Prosthetics Unit to help model complex facial prostheses for patients. 
Research & Clinical Specialties
Distinctions
Fellow, American Academy of Maxillofacial Prosthetics (2020)
Chair of Section Canada of the International Team for Implantology (2020)
Fellow, International Team for Implantology (2016)
Best Demonstrator Award in Clinical Prosthodontics (DDS IV) (2016)
Best Demonstrator Award 2014-2015 in Biomaterials and Prosthodontics (DDS I) (2016)
Chief Fellow, Oral Oncology and Maxillofacial Prosthetics at the MD Anderson Cancer Center (2013)
Select Publications
Improving effectiveness of dental students' feedback and course evaluation.
Hajhamid B, Somogyi-Ganss E.J Dent Educ. 2021 Jun;85(6):794-801. doi: 10.1002/jdd.12548. Epub 2021 Jan 27.PMID: 33502807
 
Audience and Presenter Comparison of Live Web-Based Lectures and Traditional Classroom Lectures During the COVID-19 Pandemic.
Sadid-Zadeh R, Wee A, Li R, Somogyi-Ganss E.J Prosthodont. 2021 Jun;30(5):412-419. doi: 10.1111/jopr.13301. Epub 2021 Jan 6.PMID: 33283911
 
Investigational Clinical Trial of a Prototype Optoelectronic Computer-Aided Navigation Device for Dental Implant Surgery.
Jokstad A, Winnett B, Fava J, Powell D, Somogyi-Ganss E.Int J Oral Maxillofac Implants. 2018 May/Jun;33(3):679-692. doi: 10.11607/jomi.6351.PMID: 29763504 Clinical Trial.
Somogyi-Ganss E, Chambers MS, Lewin JS, Tarrand JJ, Hutcheson KA. Biofilm on the tracheoesophageal voice prosthesis: considerations for oral decontamination. Eur Arch Otorhinolaryngol. 2016 Jul 11. [Epub ahead of print]
Somogyi-Ganss E, Holmes HI, Jokstad A.Accuracy of a novel prototype dynamic computer-assisted surgery system. Clin Oral Implants Res. 2015 Aug;26(8):882-90. doi: 10.1111/clr.12414.
Lacruz RS, Nakayama Y, Holcroft J, Nguyen V, Somogyi-Ganss E, Snead ML, White SN, Paine ML, Ganss B. Targeted overexpression of amelotin disrupts the microstructure of dental enamel. PLoS One. 2012;7(4):e35200. doi: 10.1371/journal.pone.0035200.