Vanessa C.
Mendes
D.D.S., M.Sc. (O.M.S.), M.Sc. (Perio), Ph.D., F.R.C.D.(C)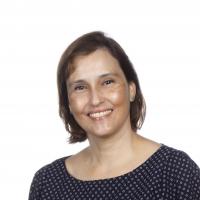 Main Appointments
Assistant Professor, Faculty of Dentistry
Director, Graduate Specialty Program in Periodontics
Email
vanessa.mendes@dentistry.utoronto.ca
Professor Mendes is a board-certified Periodontist who teaches courses at both graduate and undergraduate levels. She is also an instructor in the Comprehensive Care Program (CCP) clinic. Her research work focuses on understanding mechanisms of peri-implant healing and developing strategies for bone tissue engineering and bone regeneration. 
Research & Clinical Specialties
Select Publications
Lima LB, Paulo LFB, Silva CJ, Mendes VC, Simamoto-Junior PC, Durighetto Jr AF (2016) Congenital oral synechia and ankyloblepharon filiforme adnatum: case report and literature review. Int J Pediatr Otorhinolaryngol 90:196-99.
Araujo-Pires AC, Mendes VC, Ferreira-Junior O, Carvalho PS, Guan L, Davies JE (2016) Investigation of a novel PLGA/CaP scaffold in the healing of tooth extraction sockets to alveolar bone preservation in humans. Clin Implant Dent Relat Res 18(3): 559-70.
Davies JE, Mendes VC, Ko JC, Ajami E (2014) Topographic scale-synergy at the functional bone/implant interface. Biomaterials 35(1): 25-35.