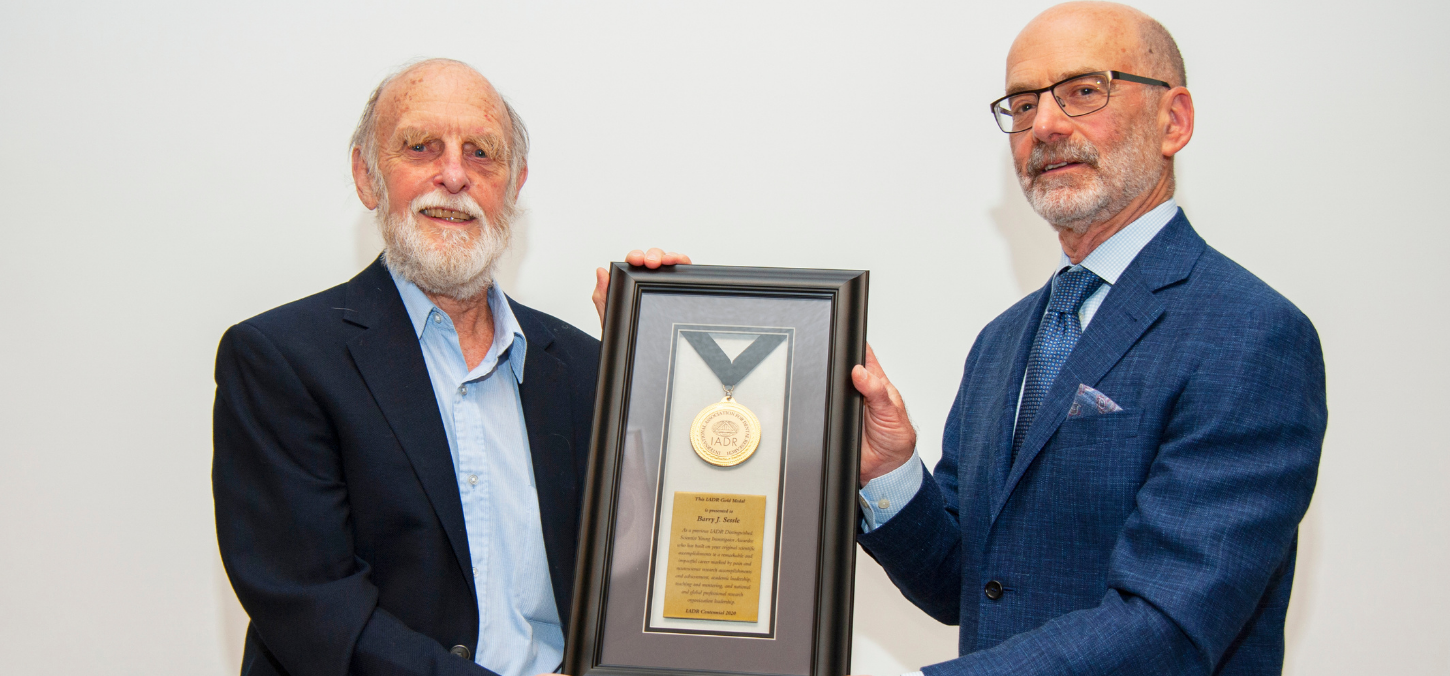 Celebrating 50 Years: Q&A with Barry Sessle
By Rachel Boutet
Professor Barry Sessle, former dean of the Faculty, was recently recognized with the International Association for Dental Research's highest honour, the Gold Medal. This recently instituted annual award is bestowed upon an individual who has previously been recognized with an IADR Distinguished Scientist Award, and who has continued to build upon their significant body of scientific knowledge. Due to COVID-19, Sessle only received his award in person in June of this year. Sessle is also celebrating over 50 years at the Faculty – we caught up with him about the award and his past five decades of working at U of T. 
Why did you begin your career in dentistry?
There are many facets to how my career in dentistry evolved. I grew up in Sydney, Australia and towards the end of high school, I decided that I wanted to have a career in the health sciences. Dentistry especially attracted me and so I applied to and received my dental training from the University of Sydney in the 1959-62 period. During my four years as a dental student I became particularly interested in the biological and pathological aspects of dentistry and I had quite supportive professors in biochemistry and pathology who encouraged me to consider a career in dental research. Somewhat fortuitously, U of Sydney had set up in 1962 a Dental Health Education and Research Foundation that included a scholarship for a young dentist to gain further education in the sciences, as a stepping-stone to a research career in the biomedical sciences. I applied and was appointed the first scholar of the Foundation which gave me a small stipend and funded my tuition as a bachelor of science student. I decided to combine the two years of the BSc program with a research project leading to a Master's of dental surgery. I was fortunately able to "juggle" both academic programs, and after graduating with two University of Sydney degrees in 1965 – a BSc and a MDS, I gained further scientific and research expertise by undertaking a PhD in neurophysiology at the medical school of the University of New South Wales which is also in Sydney. I then went on to do postdoctoral research in trigeminal neurophysiology, from 1968-70, at the NIH in Maryland.  I had intended to return to Australia, but there were no academic posts available at that time for a person with my background, so I looked elsewhere.  When an academic position came up in 1970 at U of T's Faculty of Dentistry, I applied, was accepted, and have been here ever since I moved to Toronto in March 1971.
You were recently recognized with the IADR Gold Medal. What does receiving the IADR Gold Medal mean to you?
Receiving the award is a great honour – the IADR Gold Medal is their most prestigious award and has only been given once before. It's gratifying to know that my peers recognize through this award that my many years of research on orofacial pain and neuromuscular function, together with my leadership roles in academia and in scientific societies, have had a broad and lasting positive impact in the health sciences.  In addition, the award also provides an international spotlight on our Faculty of Dentistry and its research enterprise, so that also has special meaning for me given my close association with the Faculty for 50 years. 
What have been some of the biggest changes you've seen at the Faculty over your time here?
There have been many physical changes, including the expansion of the dentistry building to include an additional wing about 40 years ago, and upgrading of the clinical, teaching and research facilities in more recent decades. There have also been changes at the academic staffing level as well over the years. For example, being part a research-intensive university, the Faculty has placed an emphasis on recruitment of staff contributing to the multidisciplinary research activities and this has been a major factor in its research enterprise going from strength to strength. I've also witnessed major enhancements over time in the clinical teaching programs and in the dental curriculum as a whole, including more integration between clinical and biological sciences. Graduate education has also benefitted from the physical, staffing and pedagogical changes, and also notable have been the initiatives over the past three decades, in particular that have enhanced the student experience and the opportunities for continuing education of our alumni and others.
What are some of your memories that stand out when you reflect on the last 50 years?
My role as dean of the Faculty of Dentistry for 11 years brings back many positive memories of my having contributed to several of the changes that I noted in answering the previous question. These particular memories also include the positive interactions that I have had with students and staff during this period that contributed to the enhancement of the Faculty's activities and reputation in education and research. My specific research activities during the past 50 years have produced many fond memories for me of academic and social interactions with my own research group of researchers, students and administrative staff, and I am grateful to them all for their important contributions and lasting friendships. My research has also allowed me to collaborate with researchers across Canada and around the world and thereby broaden the impact of my research. These collaborations have provided me with the added benefit of travelling and learning about different cultures. When I think about the past 50 years, I also reflect on the camaraderie that I have had with many faculty members as well as many positive interactions with students and post-docs. I've been fortunate for having been a mentor for over 50 graduate students, visiting researchers and scientists; while they may have learned from me, I also have learned a lot from them.
We recently celebrated the Class of 2022. What advice would you give to a new graduate?
My first piece of advice is one that is commonly passed on to graduating dentists and that is to keep abreast of new knowledge and techniques in order to provide optimal care for their patients. Secondly, while a commitment to continuing education is indeed particularly important, I think it's also important for young dentists to realize that the new knowledge and skills that they gain and utilize clinically stem from research, whether it be basic science, clinical, or educational research. They need to be mindful and supportive of the contribution of research as a whole, recognizing that research is the major driver of new knowledge underpinning advances in dental practice for the benefit of their patients, and that dental schools are the main source of this new knowledge. 
Where do you see the future of the profession heading?
We have seen some remarkable scientific and technological advances over the past 50 years. There were some research fields and technologies that weren't even present or were just emerging when I started my career, such as information technology, molecular biology, medical genetics, and approaches that have become routine for imaging of the brain and musculoskeletal tissues. These have resulted in major breakthroughs in understanding how the brain and other parts of the body function and in improvements in managing clinical conditions when these functions go awry. I expect there will be further advances that we can't even imagine at the moment that will come on board over the next 50 years. They will result in marked improvements in diagnostic and therapeutic approaches for diseases and disorders that dental clinicians are called upon to manage or prevent. Dentists and dental specialists will nonetheless need to be more adept at managing chronic diseases and disorders since demographic trends clearly indicate that higher proportions of the population in the future will be elderly, and it is in the elderly where most chronic diseases and disorders are especially prevalent. Through their educational and research activities, dental schools will be at the centre in developing these diagnostic and therapeutic approaches and in educating dental students and dentists in how best to deal with chronic as well as acute conditions affecting their patients.
Photo: Barry Sessle and Daniel Haas (Jeff Comber)