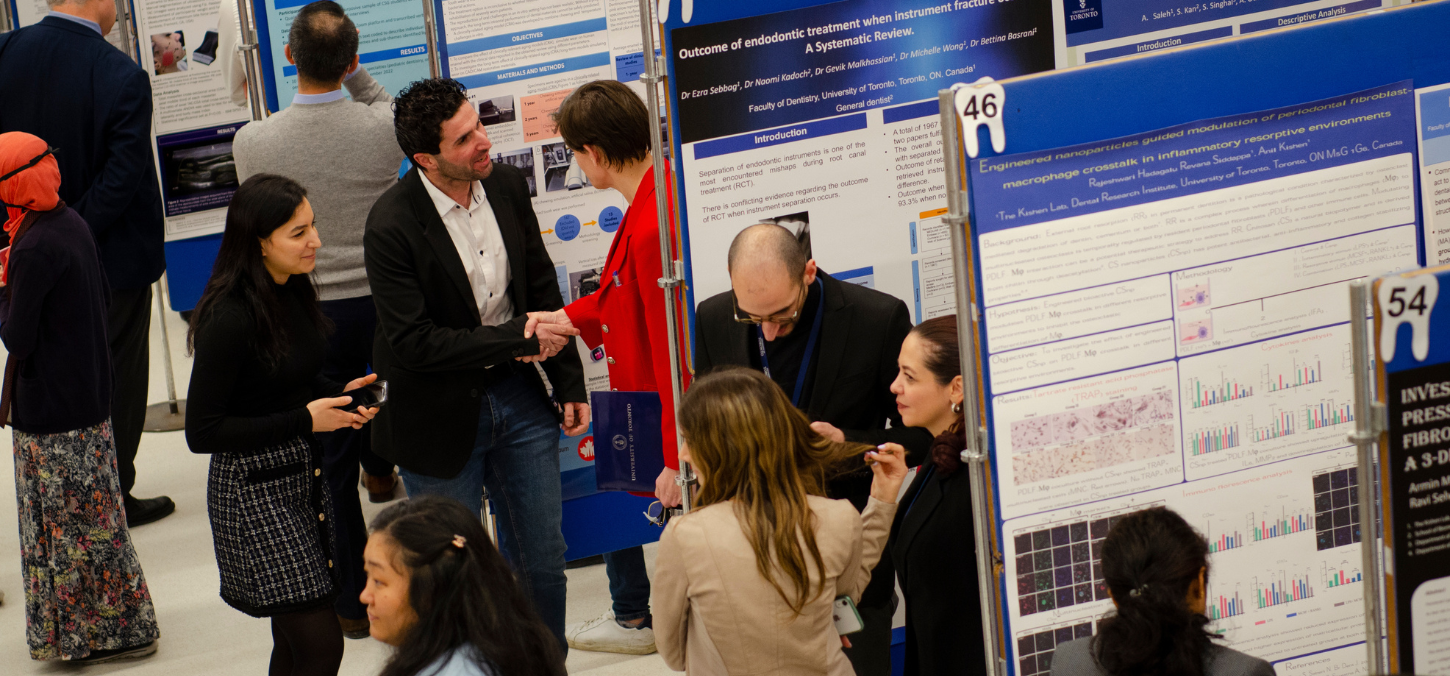 Research Day 2023 took place on February 14, bringing everyone back together in-person again, after a two-year hiatus. The event went virtual during the COVID-19 pandemic. This year's Research Day highlighted biomaterials research, with Dr. Karina Carneiro presenting as the faculty speaker, and Dr. Carmem Pfeifer, who joined us from OHSU School of Dentistry, presenting as the keynote speaker.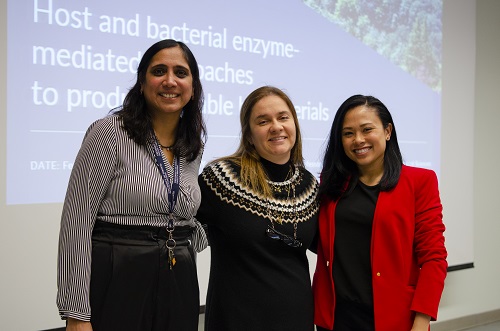 "It's a very special day that pulls the whole Faculty together. It' so important for all our students, postdocs, and faculty members to find out what other groups in our research community are up to." says Dr. Morris Manolson, Interim Vice Dean, Research. 
Students, faculty and guests had the opportunity to mingle at various refreshment breaks and the evening reception. Students participated in the day through the poster competition and oral presentations. "For many students, Research Day is their first opportunity to present their research, which is an absolutely essential skill to develop." says Manolson. You can find this year's winners listed below. 
There was a lot of planning that happened behind the scenes to bring this event to life. This was the 22nd Research Day that Leah Raz, Administrative Assistant in the Research office, has helped organize. "I have a lot of memories of students who presented at Research Day, and later became faculty or instructors here or elsewhere. It's interesting to watch how different careers unfold after presenting at Research Day." says Raz. 
In addition to the Research Day Organizing Committee, the  Student Research Group  also supported Research Day planning. President, Maya Ezzo, and Vice President Fereshteh Younesi, are both fourth-year biomedical science PhD students, supervised by Dr. Boris Hinz. They run the group to encourage graduate student interactions and growth in research. The group aims to provide students with networking and mentorship opportunities in addition to the development of research collaborations amongst students. 
"Research Day is good for networking. By meeting new people in our research community, you can set up new collaborations." says Ezzo.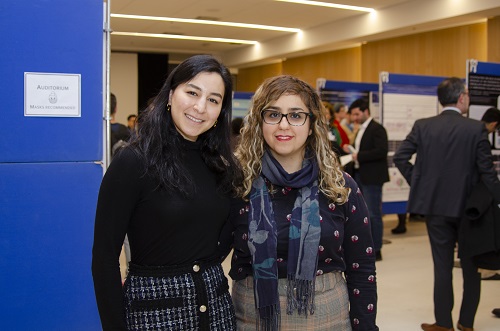 "Meeting fellow researchers is a great way to learn about job opportunities and get professional advice." adds Younesi. If you are a student interested in SRG please contact studentresearchgroupfod@gmail.com. 
Research Day 2023 was a great success thanks in part to the Faculty's generous sponsors. The fascinating keynote talk was generously sponsored again this year by the Ontario Dental Association. The lunch was kindly sponsored by Scotiabank Healthcare+. The afternoon break was sponsored by Sunstar. 
---
Congratulations to the winners of Research Day 2023! 
Morning Oral Presentations, SRG Travel Awards  
Graduate Student Fundamental Science Category Winner:
Kelsey O'Hagan-Wong
Effect of Novel Amelotin-Coated Hydroxyapatite Nanoparticles on the Remineralization of Artificial Carious Lesions in vitro
Supervisor: Dr. Bernhard Ganss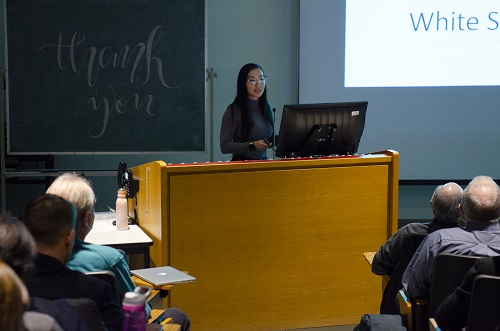 Graduate Student Clinical Science Category Winner:
Kamila Sihuay-Torres 
Cost-utility analysis of fluoride varnish with caregiver counselling vs. counselling alone to prevent Early Childhood Caries in First Nations children.
Supervisor: Dr. Herenia Lawrence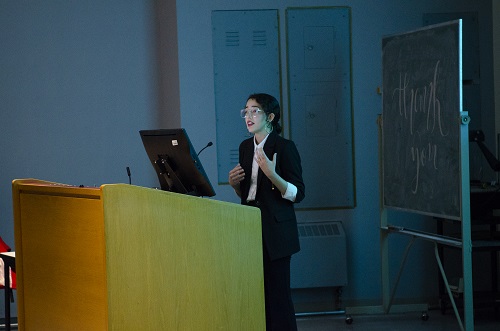 3-Minute Thesis Talks 
Thank you to Dr. Laurent Bozec and Dr. Laura Dempster.

First place: Diego Proano Falconi
1st runner up: Yuval Peled
2nd runner up: Nandita Menon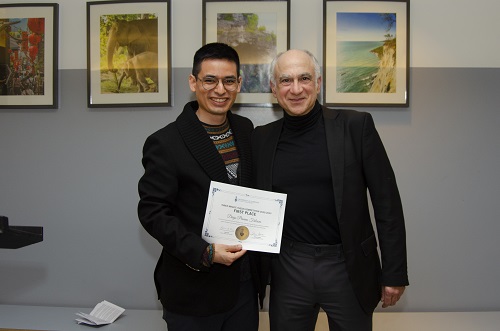 ---
Poster Winners 
Undergraduate Student Category 
1. Poster #21: Shawn Zahavi
In-House 3D Printed Splint Fabrication For Orthognathic Surgery: are these inferior to industry standards?
Dr. Marco Caminiti
Zahavi, S.1 and Caminiti, MF.1
2. Poster #14: Janannii Selvanathan
Sex Differences In The Tendon-Aponeurotic Complex Of The Masseter Muscle: Pilot Investigation
Dr. Massieh Moayedi
Selvanathan, J., Sadeghlo, N., Moayedi, M. , Cioffi, I.
3. Poster #2: Nicole Berezyuk
Mechanical Stress Reduces Global Chromatin Condensation and Enhances DNA Methylation in Mesenchymal Stromal Cells
Dr. Boris Hinz
Berezyuk, Nicole1, Younesi F1,2, Hinz B1,2,3
Graduate Student Fundamental Science Category 
1. Poster #49: Ryan Lee Chan
SELECTIVE AND ENHANCED CALCIUM PHOSPAHTE MINERAL GROWTH ON DNA ASSEMBLIES
Dr. Karina Carneiro
Ryan Lee Chan1, Liza DiCecco2, Kathryn Grandfield2,3, Karina M. M. Carneiro1,4

2. Poster #52: Pedram Mouseli
Development of a Predictive machine learning model for pain evoked by experimental orofacial muscle pain
Dr. Iacopo Cioffi and Dr. Massieh Moayedi
Mouseli, P, 1, Sagheer, S, 1, Reid, D, 2, Moayedi, M, 1, Cioffi, I, 1

3. Poster #44: Jeff Chadwick
Periodontal Inflammation Primes the Systemic Innate Immune Response
Dr. Michael Glogauer
Chadwick, JW1, Fine, N1, Sun, C1, Parbhakar, KK1, Khoury, N1, Barbour, A1, Goldberg, M1, 3, Tenenbaum, HC1, 3, Glogauer M1, 2
Graduate Student Clinical Science Category 
1. Poster #31: Sonia Huang
Streptococcus salivarius secretes novel antimicrobial compound to target dental biofilms and periopathogens
Dr. Michael Glogauer
Huang, R., Barbour, A., Glogauer, M.

2. Poster #40: Majid Zakeri
Physiological bone changes induced by internal pulsed electromagnetic implants and in the absence of occlusion: A pilot study in rats
Dr. Eszter Somogyi-Ganss and Dr. Limor Avivi-Arber
Zakeri, Maj1, Zakeri, Mah2, Tabatabaei, Nasrollah3, Avivi-Arber, L4, Somogyi-Ganss, E5.

3. Poster #27: Lélia Finan
Retrospective investigation on the effect of the two-stage collaborative examination on student performance
in the dental gross anatomy course.
Dr. Vanessa Mendes, Dr. Laura Dempster and Dr. Carilynne Yarascavitch
Lélia Finan, Judi Laprade, Carilynne Yarascavitch, Laura Dempster, Vanessa Mendes
Post-Doctoral Fellows Category 
Poster #57: Delphine Dufour
Acquisition of Antibiotic Resistance Genes by Streptococcus Mutans Persisters
Dr. Celine Levesque (Dufour, D., Gong, S.G., Lévesque, C.M.)\
Written by Nina Ambros
Photo credits: Jeff Comber, IITS
---