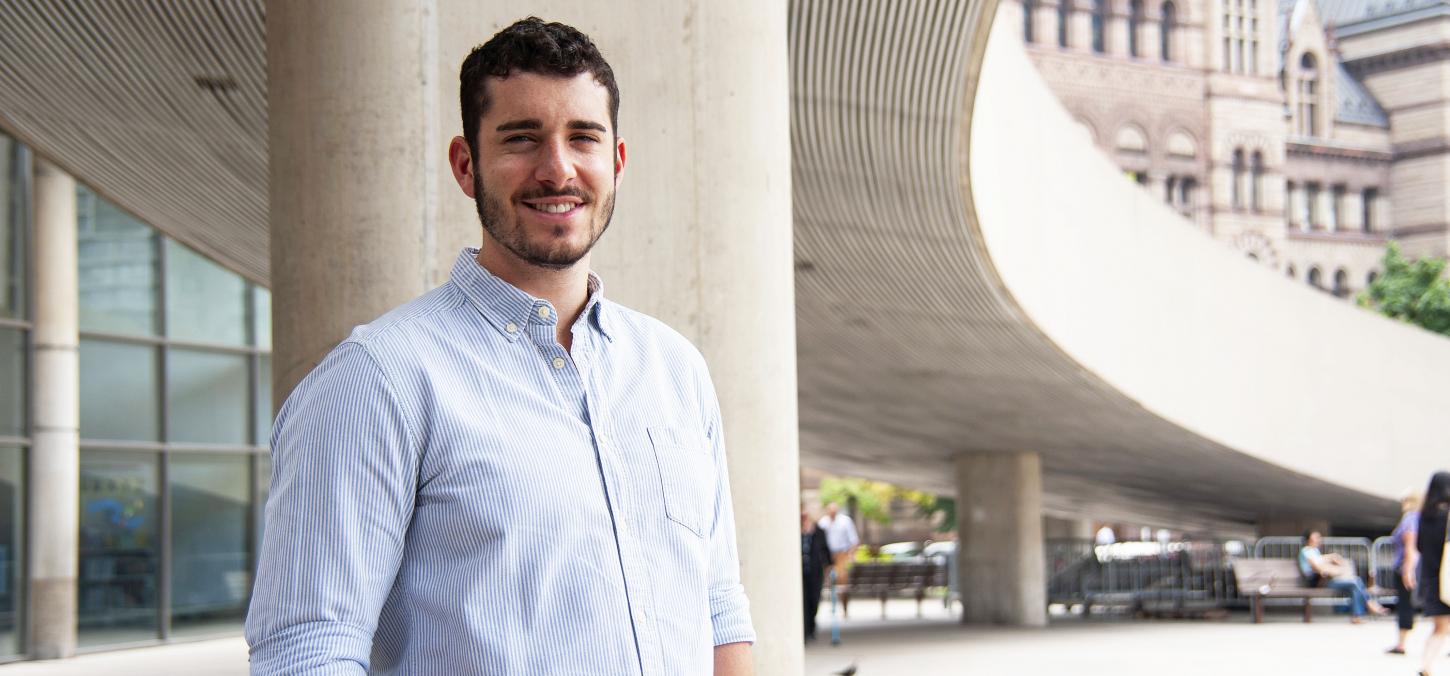 Student Profile: Brett Foy
It's true: hockey players are known for damaged jaws, and broken and missing teeth lost to sticks and pucks. 
As a former player and captain in the Ontario Hockey League (OHL) with the Mississauga Steelheads Brett Foy has definitely spent some time in the dentist's chair. But now, as a student (DDS2) at U of T's Faculty of Dentistry, he is working to help others – on the other side of things. "I can honestly say there is basically no procedure any of my patients will experience that I haven't been through myself," he said. "You name it, I've had it."
A native of Niagara Falls, Brett spent three years in the OHL. "I was always focused on hockey; it was in my life since I was a kid," he said. "My dad was a high-level player. In the OHL, he played against Gretzky and then he went on to play for the Hartford Whalers when they had a team. So, I've only really known hockey."
Drafted to the OHL in grade 10, hockey helped Brett grow up. "You learn a lot on and off the ice, like people skills, discipline, and thinking on your feet. My team mates and I also learned to pay attention to detail. And we developed the skills to work well under pressure," he said. "The OHL was a great experience and I feel that it prepared me well for dental school," he said. The owner of his team also owns the Ottawa Senators so there were perks, too, like spending time in the private boxes at the Ottawa home games.
Brett went on to play on the varsity hockey team at Queen's University when he was a first year life sciences undergraduate student.
How did you come to choose dentistry?
Once hockey with the OHL was coming to an end, I had to pick which courses to take in university. My dad studied commerce and he went on to have a successful car dealership, so he encouraged me to go into business. But I was always more interested in science. Dentistry was a good hybrid of my interests in science, business and hands-on work, plus working with people. I find it's more of an art than a science. There is an art to making crowns and fillings, for example. In this line of work, you meet a lot of people too. That's a big part of dentistry. I met a lot of people and socialized a lot in the OHL, so I like that.
I'm finding that each school year brings more responsibilities. This is my second year, so I will get to work more in the clinic with patients and I'm looking forward to it.
It was a system shock, after all that time dedicated to hockey, to head in to school full time. The OHL was a happy time in my life; I gave 100 per cent effort to my third and final year of hockey as the captain of my team. At this stage, I'm pleased with where I am in my life and with my career ambitions.
Do you take part in any activities outside class?
I've kept up with hockey. I play on the Toronto Dental Hockey Club team with some of the other guys, like Greg Pigeon and new grad Andrew Hall. 
Are there any spots around the city you like to visit?
Trinity Bellwoods Park is a great place to go to hang out and relax. It seems like you're not even in the city. People go and walk their dogs there. There are lots of good restaurants and shops around there too.
Would you have any advice for new Dentistry students?
When I got the call that I'd been accepted into Dentistry, I didn't have much time to prepare. I had to plan a move from Niagara Falls to Toronto, find a place to live, and get up to speed on courses in about a week. In first year, I really hit the ground running. I felt I was constantly catching up until Christmas. 
So I would say to new students: Make sure to use all your resources. You may feel intimidated by the professors, but don't be. Regardless, I found that older year students are really nice and very helpful. They've been where we are. We often study together and exchange ideas. There are also extra sessions for students if we need to build up our skills.
Also, O-week is great. Take advantage of all those activities. I got to know everyone that week and I met some of my best friends during that time.
Photo credit, above: Jeff Comber, IITS
Photo credit, below: Mississauga Steelheads; Terry Wilson OHL; Brett Foy.