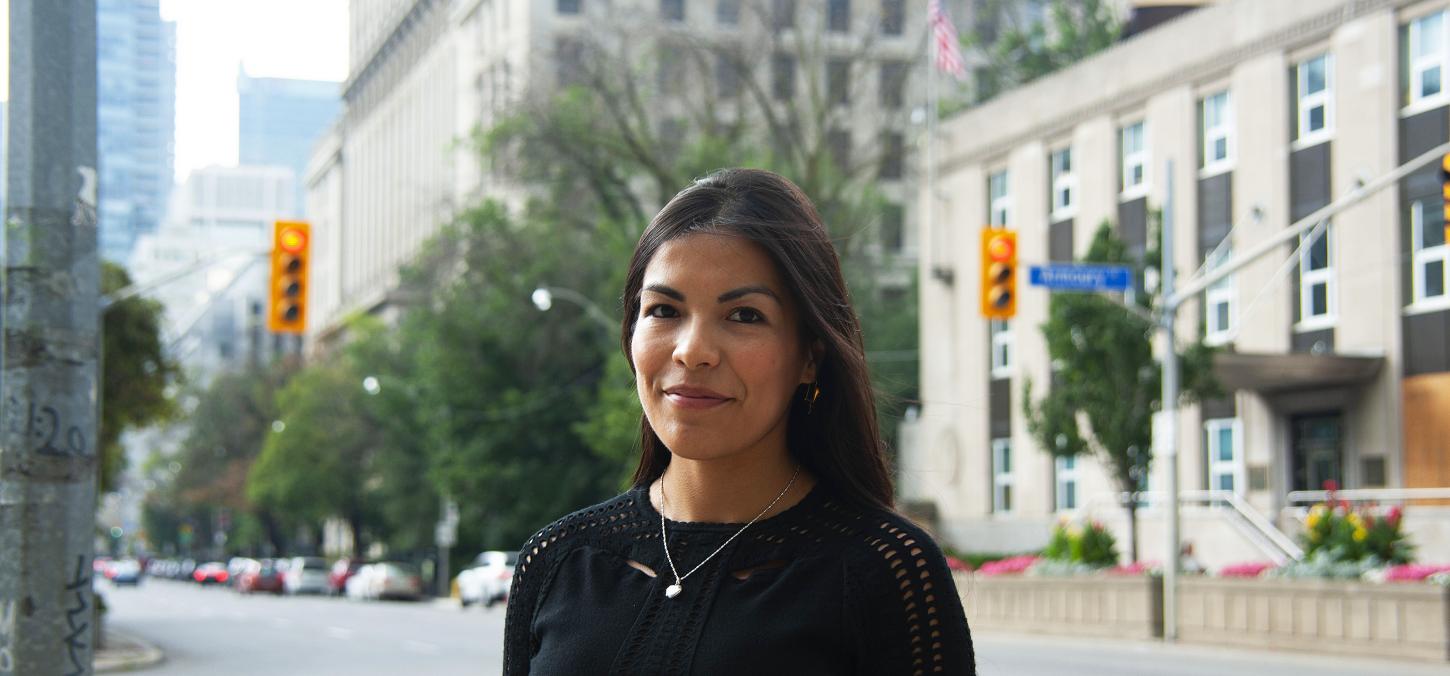 Student Profile: Saira Paredes
Originally from Cajamarca, Peru, Saira Paredes (DDS4) was already an accomplished student and public health professional in the United States when she arrived at U of T's Faculty of Dentistry.
Saira ultimately moved to Toronto for love – and she hasn't looked back since. Her husband, Abhishek, is a Canadian, Toronto-based family physician. They met as graduate students at Johns Hopkins University. "When he was relocating back to Toronto a few years ago, I made the decision to come with him," she said. "I knew there were many more places out there where I can learn and grow professionally, and I am glad to now call Toronto home."
Saira always took risks, and she always had a passion for learning. This was influenced by her parents who were educator advisors for the Peruvian government; her father was an expert in biostatistics and her mother was a sociologist.
It was in Chiclayo where she first became interested in dentistry. She observed the disparity in dental care available and she wanted to do something about it. "There was no clear idea of preventive dentistry, plus there were cultural and financial restraints in terms of accessing care, and children suffered as a result," she said. "As a teenager, I originally explored dentistry as a career, and I was also interested in epidemiology, anthropology, and ethics and public policy. That's what eventually led me to public health."
When Saira was 18, she moved with her father, mother and brother to North Carolina, where she applied for scholarships to attend university. "My mother encouraged me to go to university in order to make a difference one day." she said.
For the next four years, Saira won scholarships from the Hispanic College Fund (HCF) and the Congressional Hispanic Caucus Institute (CHCI), that help Latino students. These scholarships enabled her to complete her undergraduate education in North Carolina and eventually her Master's degree.
It was during her time in North Carolina that Saira's mother died of cancer, and this changed her life forever. "My mom's death opened up opportunities that I never would have considered. Her legacy encouraged me to grow and to think outside the box, as well as to seek to understand how people live," she said. "I thought to myself: How can I make a difference? How can I combine my interests in health, public policy, travel, and people? It was quite a combination and I was eager to make the best of it."
As a way to learn about commitment and discipline and also as a way to grieve her mom's death, Saira started training with university athletes. "I would wake up at 4:30 in the morning and work out and train. It also helped me meet people outside of class – people from different backgrounds," she said. "By the time I graduated, I learned how to balance academics and other hobbies, and I had made many friends from different countries and cultures."
From there, Saira went on to John's Hopkins where she earned her Master of Science in Public Health degree through the The Global Disease Epidemiology and Control (GDEC) program. This was also a pivotal time in her life.  As a HCF and CHCI scholar, she was accepted to complete an internship with the U.S. Congress. 
Saira's internship occurred as the George W. Bush administration was leaving and President Barack Obama was coming into office. Her work included preparing speeches for lobbyists. "That job was like an encyclopedia filled with new people to meet," she said. "I got to see the reality of the day-to-day workings of government, and I also witnessed the human side. It was a great experience and I met amazing mentors there."
She transitioned from that job to working for two years (2010-2012) for the former mayor of Baltimore, Stephanie Rawlings-Blake. At 23 years old, Saira was one of the lead staff members. She put together presentations and she went door-to-door to canvass on behalf of the mayor. She left that job and the U.S. to come to Canada with her fiancé (now husband).
Once established in Toronto, Saira didn't know if she would be accepted into the Faculty of Dentistry, but she was encouraged by her Dad and her husband to apply. "This was finally the opportunity that I had been waiting for," she said. "It took many years and moving through several cities and countries, and I was ready."
Saira is still very interested in public health. She worked with Dr. Carlos Quiñonez in public health projects for the provincial government. "He challenged me to look for innovations in our field," she said. "I hope to be able to work with him again." She is currently working on another project involving CAD-CAM glass ceramic crowns in the Faculty of Dentistry.
She is excited to graduate this year, but it's bittersweet. She will miss her classmates and her instructors. "They've become my family and my mentors. We all provide each other with feedback and we have good relationships," she said. "I'm in my final year, so we are trying to cherish every moment. I'm going to miss this faculty and its people, everyone from the cleaners to the clinic staff members and instructors. Each of them enriched my life day by day. I had to start from scratch again when I started here and I'm just so grateful to everyone."
Do you have any advice for international students?
Be patient with yourself and surround yourself with good mentors. I have been an international student most of life and I have learned that there is always so much to learn from your classmates, the culture that surrounds you to prepare you for the journey ahead of you! It is very important you have a good support network as well as to become responsible for your own decisions and behavior. Remember you are representing your culture and soon, you will be representing a professional field. Do not follow stereotypes and do not be afraid to make friends with people from other backgrounds.
Any advice for first-year students?
Actively listen, do not be afraid to ask for help, and accept constructive criticism. Upper years, instructors, and staff members are here to help you. Also, budget your time and energy wisely. Do not underestimate school, but do not overestimate your fears and stress. Four years will go by quickly, so it is OK to make mistakes as long as you learn from them in order to do better next time. There will be days that will go smoothly, and there will be other days that will be a bit gloomy.
Just remember this quote from Maya Angelou: "You may encounter many defeats, but you must not be defeated. In fact, it may be necessary to encounter this, so you can know who you are, what you can rise from, and how you can still come out of it."
Photo: Jeff Comber, IITS