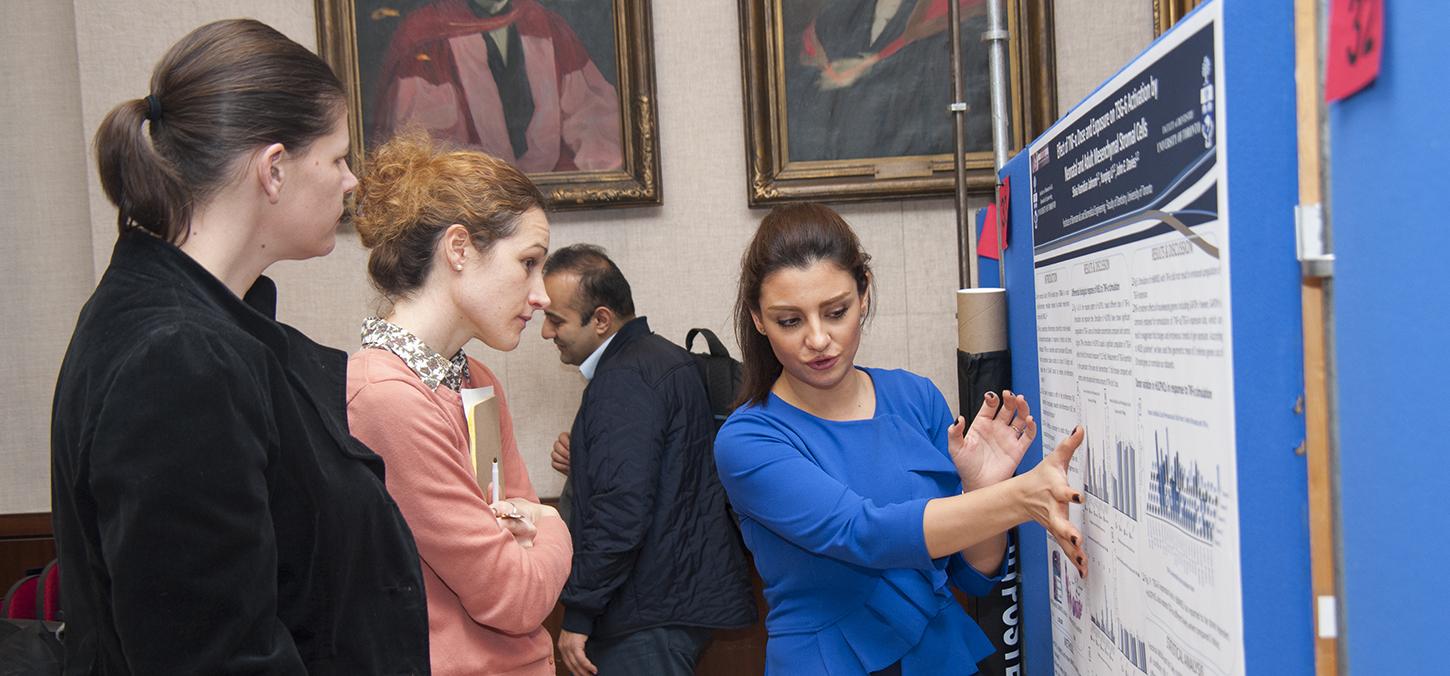 From cancer to opioid abuse, Research Day 2017 tackles vital health challenges
Metastatic oral cancer isn't a subject Alexandra Blake thought she'd be studying as part of her DDS education. But the 2nd year student, who first started working with Assistant Professor Marco Magalhaes during the 2016 Summer Research Program, soon found herself making progress in an important area of cancer research.
Having previously done cancer research as part of her MSc degree, Blake began investigating the role of phospholipids and their role in creating conditions for invadopodia, cancerous protrusions of metastasized cancer. "We're investigating the outside barrier of cells – how this changes with invadopodia formation," says Blake, who noted that the phospholipid membrane of the cells seemed to change with the progression of cancer, allowing the finger-like invadopodia to break through tissues surrounding cells.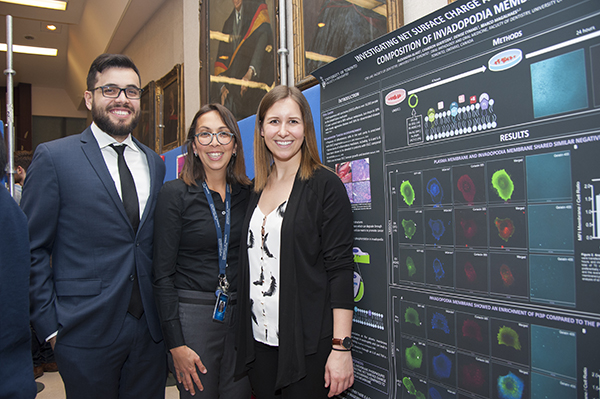 But by halting changes to the cellular membranes, researchers may one day be able to stop oral cancer in its tracks. It was a discovery that earned her third place in the Undergraduate Summer Student poster competition research category during this year's Research Day.  
Blake's research finding was one of many exciting discoveries presented at Dentistry's annual research event. A one-day mini-symposium highlighting the Faculty of Dentistry's remarkable breadth and depth of research conducted by its students. With a keynote address by Dr. Keiran Murphy, and additional addresses by Dentistry professors Yoav Finer, Michael Glogauer and Anil Kishen, the event showcases undergraduate, graduate and postgraduate research through poster competitions and oral presentations.
"What amazes me time and again at the Faculty's Research Day is the incredible variety and depth of work being undertaken here," says Vice-Dean, Research, Professor Bernhard Ganss. "We have some truly exceptional researchers incubating here, and I'm excited to see how some of their discoveries will impact the field."
One such researcher of impact is Dr. Annie Shrestha, this year's winner of the Student Research Group Travel Award – Graduate Clinical Science. Her winning oral presentation focused on multifunctional chitosan nanoparticles, a naturally derived bioactive polymer, as a way to treat bacteria-infected immature dentin. Her findings showed that not only did the particles help fight bacterial infections in dentin, they promoted stem cell migration and differentiation, leading to healthy new tissue. Potentially useful in a number of different applications, the nanoparticles can be used for caries management, root canal treatment and dentin-pulp regeneration.
We have some truly exceptional researchers incubating here, and I'm excited to see how some of their discoveries will impact the field.
 But the day's presentations didn't all focus on tissues and cells.
"Right now Canada is facing an opioid abuse crisis, leading to overdoses and fatalities," fourth year DDS student Jamie Moeller began his poster presentation. 
Moeller's work examines whether the socioeconomic indicators of high and low income patients could be predictors of opioid use—and potential abuse—for those suffering from acute tooth pain. According to his results, those from lower socioeconomic backgrounds may be far more likely to treat tooth pain with opioids.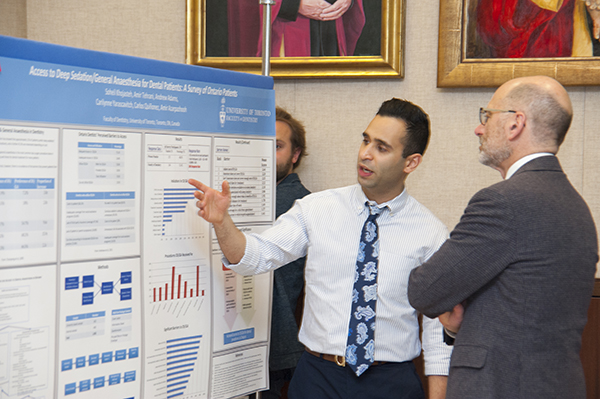 What could account for this useage? According to Moeller, the answer may lie in what we already know: individuals from lower socioeconomic backgrounds tend to suffer from more severe dental pain and experience a greater burden of disease.  He hypothesizes that opioids might be prescribed for this severe tooth pain, or may already be available to those affected by dental pain for treatment of other forms of pain (chronic back pain, as one example). Given that public drug plans often provide coverage for narcotics, but not for over-the-counter painkillers such as Tylenol or Advil, individuals with less disposable income may be compelled to use opioids in place of other painkillers. It's the kind of real-world research that could be used to support changes to opioid and other drug policies across the province and beyond.
Images: courtesy Jeff Comber, IITS