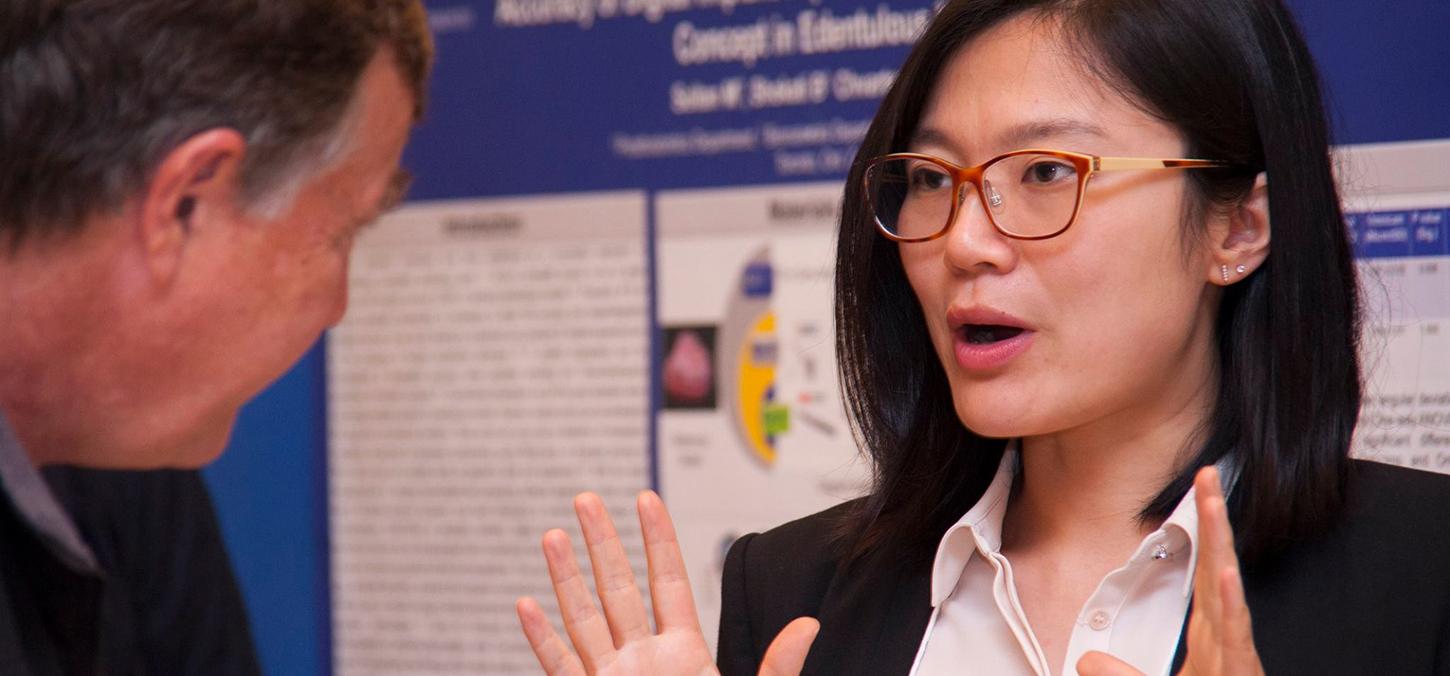 Newest faculty member wants to design better research to benefit patients
Biomaterials expert and newly appointed assistant professor Bo Huang has long known that there is a big difference between the research conducted on the bench and how the results of that research eventually benefits patients.
Huang, who began a part-time faculty appointment this November, had been a practising dentist in China after earning her Doctor of Medicine in Dentistry degree at the Air Force Medicine University (formerly known as the Fourth Military Medicine University) in Xian, China in 2007. She followed up the DMD degree with a Master of Science in Oral Microbiology at Peking University in Beijing in 2010.
In 2011 Huang immigrated to Canada and began a PhD at the Faculty of Dentistry in biomaterials. She studied the biocompatibility of the most common materials used in fillings, and how those become degraded in the oral environment.
I can ask, what are the requirements and needs from the patients' standpoint? Then, I can better design my research
Throughout the degree, which she completed in 2017, Huang came to see that the gap between research and practice was bigger — and more problematic — than she'd previously thought.
"Whenever I went [to conferences] and presented my work, clinicians always asked: How can it could benefit us? How long will it take for your results to be translated into the clinic?" says Huang.
Her co-supervisors, professors Yoav Finer and Dennis Cvitkovitch, suggested that Huang undertake further specialty training, "to think like a clinician again, to see how I can translate research into clinical applications," says Huang.
The discussion was an important one for Huang, and one that eventually shaped her future career. She entered the Master of Science in Prosthodontics specialty degree at the Faculty in 2017. For her thesis research, Huang studied the enzymatic activities of oral bacteria that can lead to the destruction of hard tooth structures.
But for Huang, research into those tiny, microscopic bacteria always comes back to the human factor.
"I have one advantage as a researcher," says Huang. "I can go back to the clinic and treat patients and see what materials really work in patients' mouths. I can ask, what are the requirements and needs from the patients' standpoint? Then, I can better design my research."
Huang recognizes the potential for all patients to gain from her research findings — but also the potential advances that can be made in the field of biomaterials.
That progress flows both ways. Starting this November, Huang will use her edge as a clinical researcher as she teaches prosthodontics to undergraduates and continues her research on biomaterials.
Huang won't leave her patients behind: she plans to continue seeing patients as a part-time prosthodontist, ensuring that she's always got a keen understanding of patients' needs, whether she heads into the lab, the clinic or the classroom.
Photo: Bo Huang presents at a past Research Day at the Faculty of Dentistry