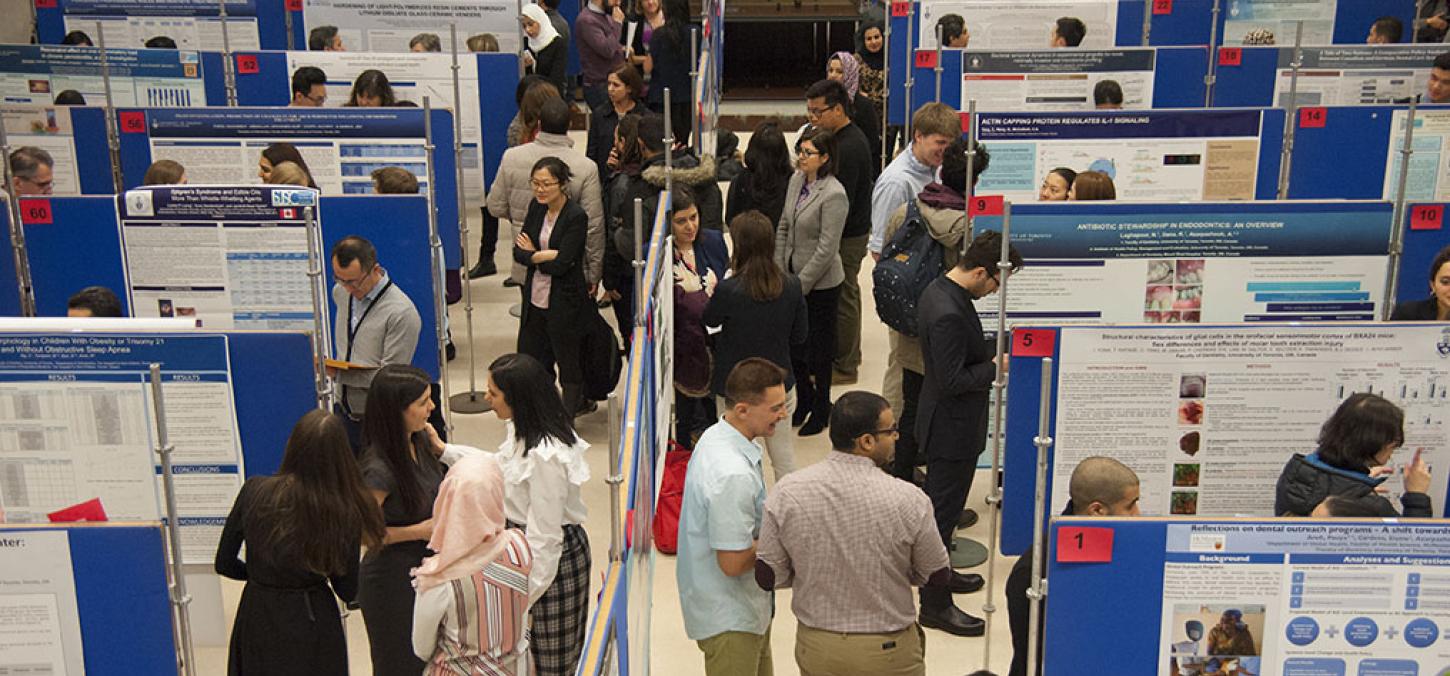 Research Day 2018
Research Day 2018 brought together faculty, staff and students from across the Faculty of Dentistry, University of Toronto, to acknowledge and celebrate their many accomplishments.
Some compelling graduate basic science student presentations, graduate clinical student presentations and undergraduate student presentations were featured as well as exceptional poster presentations. Professor Bernhard Ganss welcomed everyone with opening remarks and an introduction of the key presenters.
Keynote Speaker Dr. Milica Radisic, Professor & CRC, Functional Cardiovascular Tissue Engineering Institute of Biomaterials & Biomedical Engineering, University of Toronto, discussed her study "Microfabrication of Elastomeric Polymers for Organ-on-a-chip Engineering and Injectable Tissues." Dr. Radisic, a professor at U of T, Canada Research Chair (Tier 2) in Functional Cardiovascular Tissue Engineering, is also a Senior Scientist at the Toronto General Research Institute. She is a co-founder of a New York-based company TARA Biosystems.
Keynote Faculty Lectures were given by Dr. Anuradha Prakki and Dr. Laura Dempster. Dr. Prakki gave a presentation called "From E-Learning to MR-Learning?" with a focus on the potential of using holographic imaging integrated into the real world, also known as mixed reality, to serve as a platform for an innovative approach for educational visualization in Dentistry. Interactive 3D learning tools, drawing on cognitive and constructivist learning theories, have received much attention in terms of their instructional utility and pedagogical impact.
Dr. Dempster presented "Teaching, Learning and Assessment of Communication in Dental Education: Future Directions in Education Research." She focused on communication as a core skill, not only for students and trainees, but for undergraduate and graduate educators, clinician instructors, mentors, and research supervisors - all of whom have a role in educating future dental professionals. She outlined current innovations and research in teaching, learning, and the assessment of communication.
The day concluded with the awards ceremony and a wine and cheese reception.
Congratulations to all participants and to the 2018 winners!
View a gallery of images from the event.
Photo Credit: Jeff Comber, IITS.