Where do careers in research begin? Right here.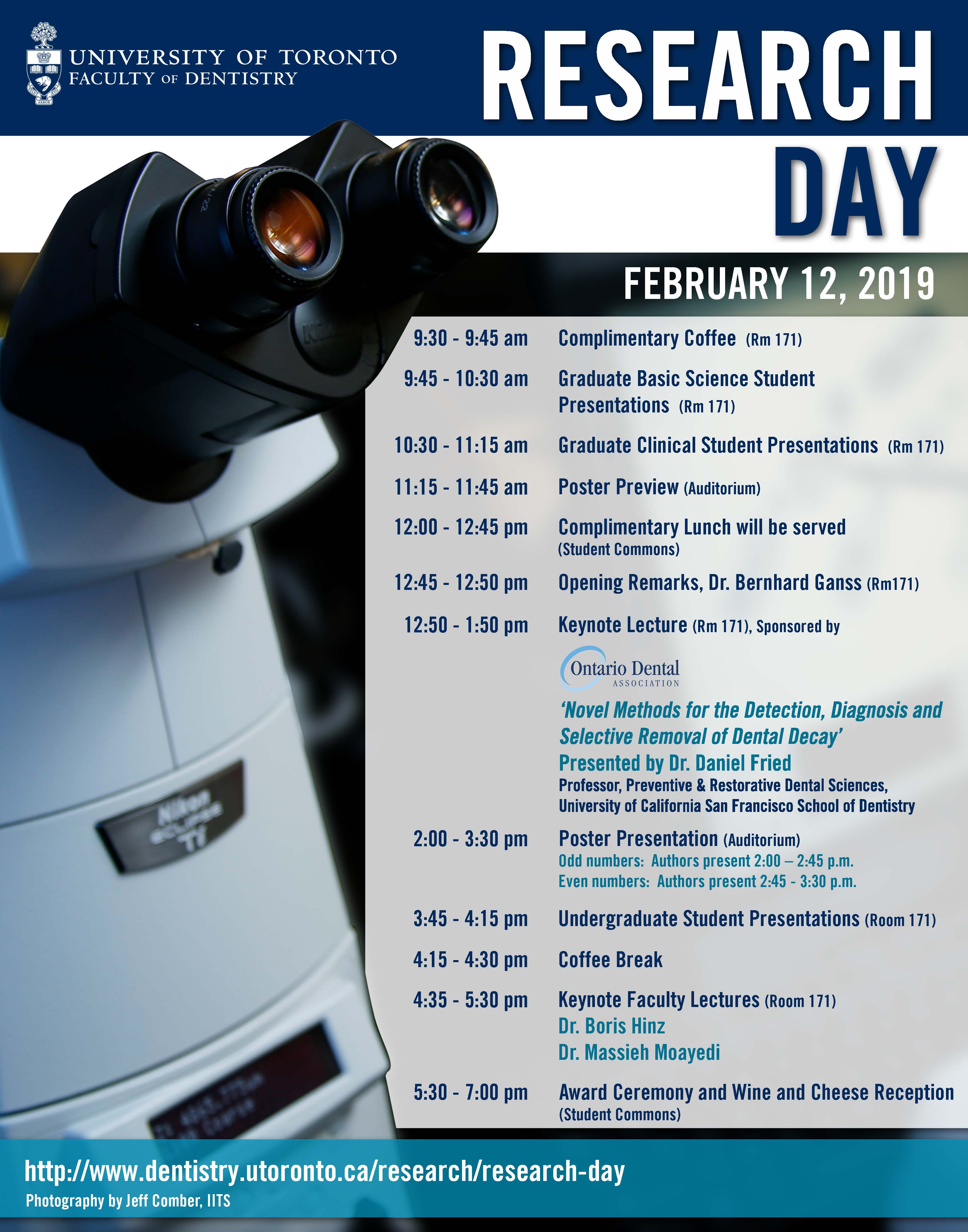 Please read the Rules for Submission and Abstract Format Requirements below carefully before preparing and submitting an abstract.
 
RULES FOR SUBMISSION OF ABSTRACTS
The presenting author is required to ensure that all co-authors are aware of the content of the abstract before submission.
The presenting author must be listed as the first author. 
Abstracts presented at previous Faculty of Dentistry Research Day will not be accepted.
All abstracts must be presented in clear English. 
Abstracts must be submitted by email; hard copies will not be accepted.
ABSTRACT FORMAT REQUIREMENTS
Prepare the abstract in Word document, using 8" x 11" in page layout, with 1" or 2.5 cm margins around all borders. 
Font: Times New Roman, font size 12 point. 
Format: Follow the format in the attached "Abstract Formatting Example" pdf file to prepare your abstract for submission. 
Word Limit: The text within the abstract body must be within the 300 word limit. 
File Name: Save the abstract in Word format as: "Surname-First Name-Research Day 2019" (Abstracts submitted in pdf format will NOT be accepted).
Email the Abstract to: researchday.dentistry.utoronto@gmail.com on or before Monday, January 14, 2019. No exceptions will be made.  
IN THE SUBMISSION EMAIL, PLEASE INCLUDE:
- What category are you in? (Clinical Research / Basic Science / Undergraduate (If you were in Summer Student Program in 2018))
- Would you like to be considered for SRG Travel Award? (Yes/No) If yes, you will be issued an invite to give an Oral Presentation if your abstract is selected as one of the finalists.  **Please note:  If you are NOT contacted by the Research Day Committee to give an Oral Presentation specifically, then it is understood that you will be presenting a POSTER for Research Day.
Abstracts that are incomplete, not submitted to the  researchday.dentistry.utoronto@gmail.com, and/or do not comply with Rules and Requirements as indicated above, will not be accepted.
ABSTRACTS SUBMITTED PAST THE DEADLINE WILL NOT BE ACCEPTED.