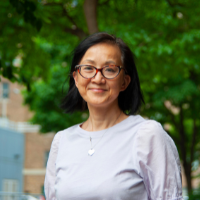 The Faculty of Dentistry is a comprehensive centre for teaching, research and clinical service. It is home to inspired, knowledgeable and talented researchers, educators, students and clinicians whose aim is to improve health by advancing dentistry.
We seek excellence in achieving the highest standards for scholarship and for training undergraduate, postgraduate and graduate students at the professional, master's and doctoral levels; collaboration across disciplines and professions, with internal and external partners; respect for diverse ideas, rights, beliefs and perspectives of all students, patients, staff and faculty; and professionalism and compassion in patient care.
We take great pride in our people: we attract excellent faculty, staff and students whose combined clinical, academic and scientific work consistently places us as one of the top dental schools in Canada and in the top 40 worldwide.
These people help us forge the relationship between clinical practice and research. We are committed to training the next generation of clinical practitioners and scientists in order to ensure that generations of patients receive the highest standards of care.
I encourage you to explore our programs, our services, and our stories. 
 
Laura Tam, 
Interim Dean, Faculty of Dentistry