Overview
This is part of our graduate education: MSc or PhD program with specialist clinical training.
Program director

Dr. Michael Casas and Dr. Jill Oxner

Length of program

MSc: 3 years

PhD: 6 to 7 years

Important dates 

Application window: April 1 – September 1 

Interview notifications: Late October – mid November

Program start: First week of July

Number of spaces available across MSc and PhD 
4
Main teaching team
Through this program, you will learn how to provide primary and specialty-level oral health care to children from infancy through adolescence in academic, institutional or community settings.
Your advanced clinical education will include the entire scope of Pediatric Dentistry and the clinical fields directly related to it, emphasizing the prevention and interception of oral conditions through early intervention and comprehensive preventive and rehabilitative care.
You will learn how to develop oral health care programs for patients who are medically compromised or who have physical/mental special needs.
You will gain experience working the patients in local community level and in outreach settings and improve the oral health of children and adolescents.
Teaching is also an important component and you will get experience in teaching undergraduates.
How you will spend your time
(on average, may vary from year to year)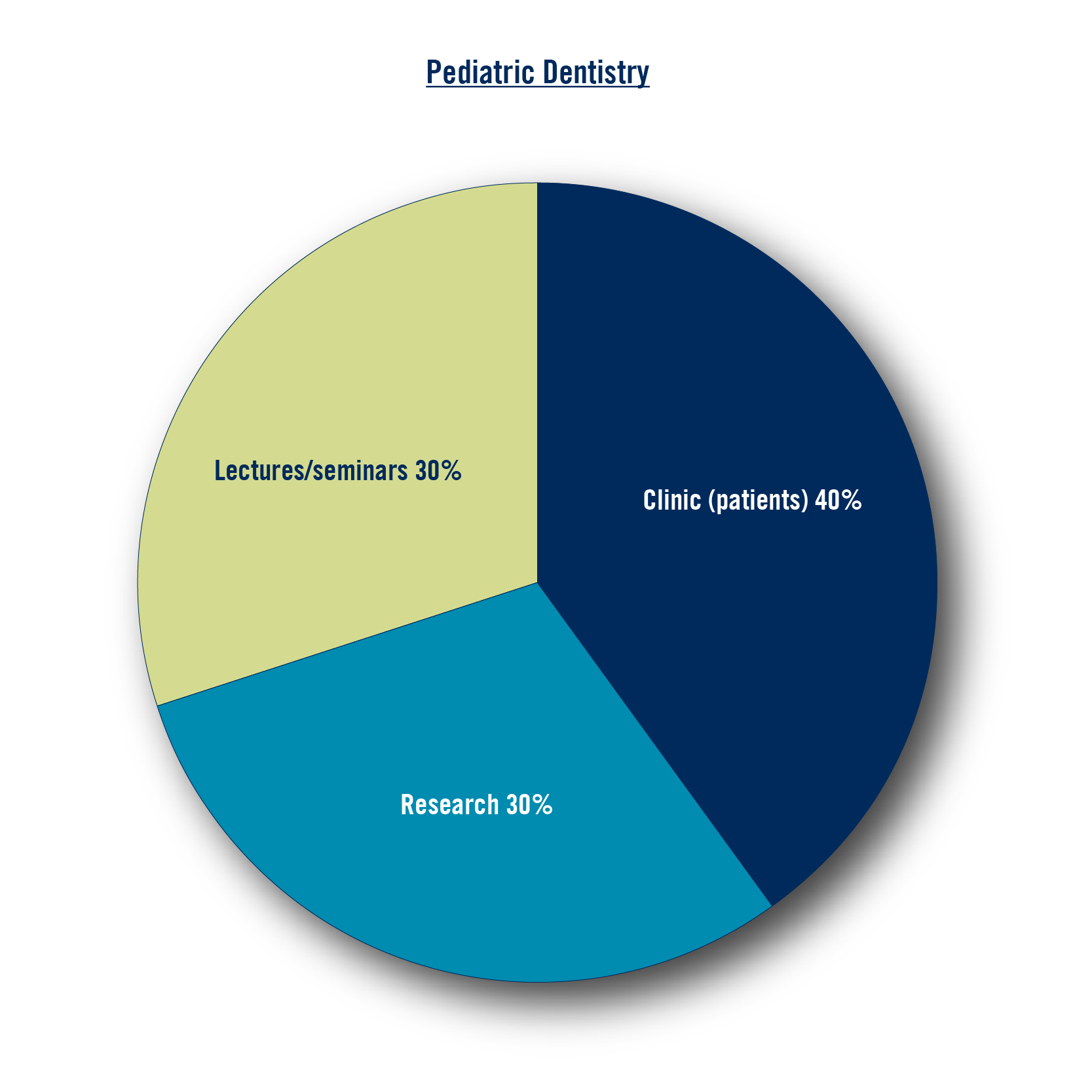 What this program enables you to do
The program is accredited by the Commission on Dental Accreditation of Canada and the Commission on Dental Accreditation in the United States through a reciprocal agreement.
Completion of this program will allow you to take the:
National Dental Specialty Examination (the National Dental Examining Board of Canada)
Fellowship Examination (Royal College of Dentists of Canada)
Diplomate Examination (American Board of Pediatric Dentistry)
How to apply
We give preference to applicants who have completed a general practice residency or have at least one year of private practice experience.
Follow the standard application process on How to become a specialist dentist.
If you are applying at PhD level
If you are applying for this program at the PhD level, you need to identify an area of research and contact a faculty member before you apply to determine if they are accepting PhD students for supervision.