Overview
This is part of our postgraduate education: MSc or PhD program with specialist clinical training.
Program director

Dr. David Chvartszaid

Length of program

MSc: 3 years

PhD: 7 years

Important dates

Application window: April 1 – August 1

Interview notifications: Late August

Program start: First week of August of the following year 

Number of spaces available across MSc and PhD
2
Main teaching team

Dr. Ming Chou
A Prosthodontic specialist requires a particular balance of clinical and problem-solving skills, with scientific rigor to develop evidence-based clinical decision making.
You will learn how to solve patients' stomatognathic problems using the optimal choice of fixed, removable or implant-supported prostheses. You will make decisions about the comprehensive treatment needs of dentate, partially edentulous and completely edentulous patients, including those with maxillofacial defects.
You will develop strong surgical, communication, and interpersonal skills in addition to the core prosthodontic clinical skills. 
This is done through:
extensive clinical training under close supervision in the Faculty of Dentistry Prosthodontics and the Implant Prosthodontic Unit
rotation to the Princess Margaret Hospital focusing on Maxillofacial Prosthodontics and oncologic management
rotation to the Holland Bloorview Kids Rehabilitation Hospital focusing on management of Prosthodontic needs in child and adolescent patients. 
You will be assigned a minimum of 20 patients who need comprehensive treatment. You will be expected to complete their care to the satisfaction of the Graduate Specialty Program Director to pass your clinical requirement.
How you will spend your time
(on average, may vary from year to year)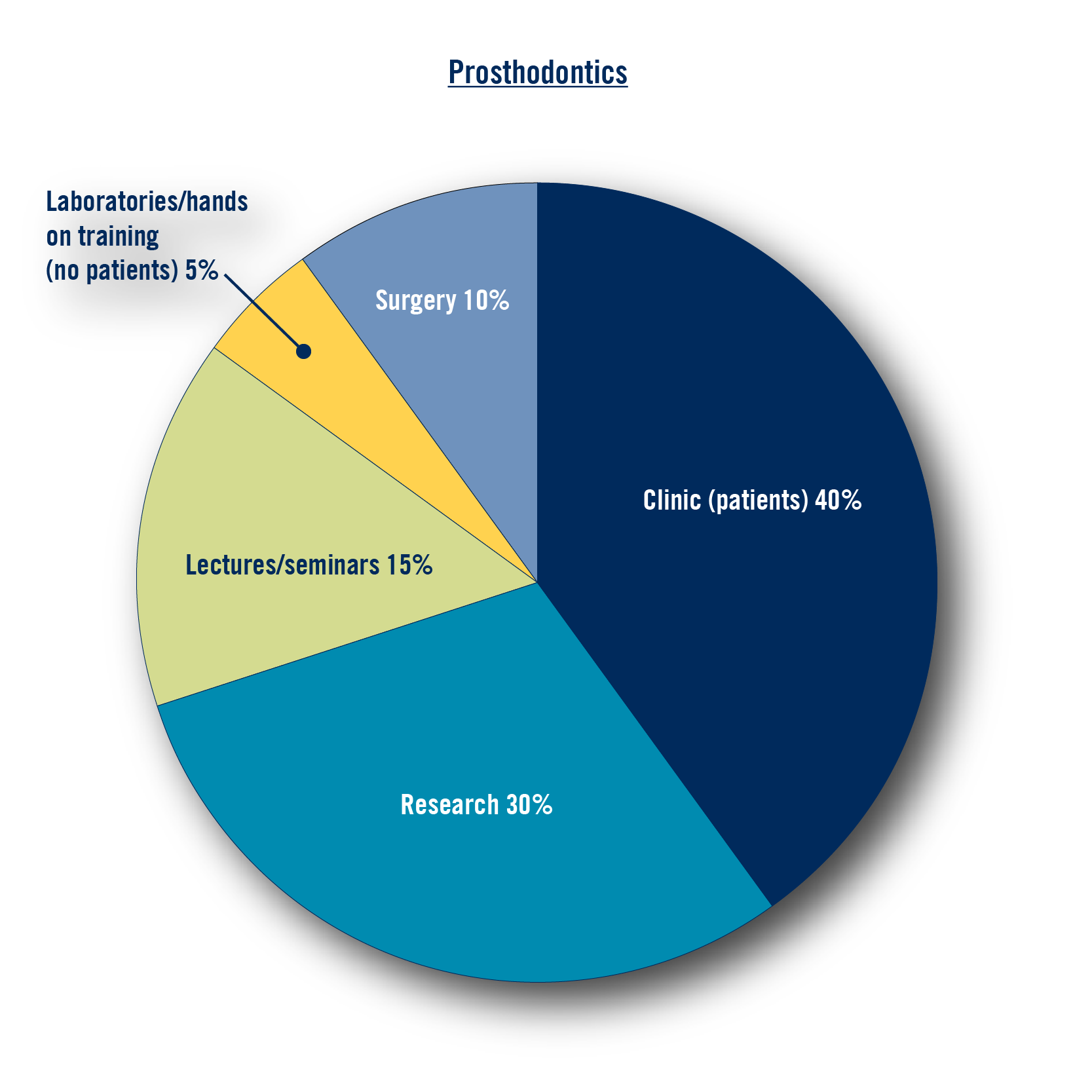 What this program enables you to do
The program is accredited by the Commission on Dental Accreditation of Canada and the Commission on Dental Accreditation in the United States through a reciprocal agreement.
Completion of this program will allow you to take the:
National Dental Specialty Examination (the National Dental Examining Board of Canada)
Fellowship Examination (Royal College of Dentists of Canada)
Diplomate Examination (American Board of Prosthodontics).
How to apply
Follow the standard application process on How to become a specialist dentist.
If you are applying at PhD level
If you are applying for this program at the PhD level, you need to identify an area of research and contact a faculty member before you apply to determine if they are accepting PhD students for supervision.