Dean's welcome for our DDS students
Dear incoming students,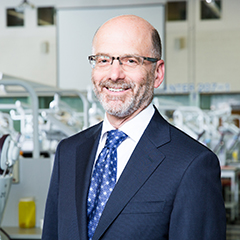 Congratulations on your acceptance to the Doctor of Dental Surgery (DDS), and welcome to University of Toronto's Faculty of Dentistry!
I am confident you will find the DDS program to be uniquely challenging and rewarding. From personal experience, I can tell you that each of your four years here will see you thoroughly engaged.
You can also anticipate that your time with us will be among the most fulfilling experiences of your life. We are committed to providing the most comprehensive training – from bench to chairside – and we take great pride in educating outstanding future dentists.
When you graduate, you will have gained the knowledge, skills and abilities that will serve you well throughout your career.
Still, I hope that your experiences will not be all academic. Although the Faculty of Dentistry is the largest dental program in the country, at one of the top universities in the world, you will be joining a close-knit community of peers, mentors and staff.
In fact, our students and alumni tell us that one of the defining aspects of our program is the lifelong friendships they have made here, not just among their fellow students, but also among our faculty.
Our student body is passionate and involved. From the annual Dentantics talent show, to peer mentoring and extracurricular sports, our students pursue a remarkable breadth of talents and interests. 
I also write to assure you we are focused on ensuring that all of our students have a high-quality learning experience in spite of the challenges that we are facing with COVID-19 restrictions.  
For the fall, we are planning to provide your lectures online and your instructors are preparing innovative ways to engage you actively through digital platforms. You will be participating in our laboratory and tutorial classes in-person, with measures in place to ensure your health and safety.
The overall quality of your learning experience and your safety guide our decisions.
We are working hard to be ready to deliver our academic programs, our student services, and the peer connections that are all important components of your university experience. 

Once again, welcome! I look forward to meeting you and hearing of your successes.
Sincerely, 
 
Daniel Haas, DDS, PhD, FRCD(C)
Professor and Dean
Arthur Zwingenberger Decanal Chair