Overview
This is part of our graduate education: MSc or PhD program with specialist clinical training.
Program director 

Dr. Michelle Wong

Length of program

MSc: 3 years

PhD: 7 years

Important dates

Application window: April 1 – September 1

Register with the Postgraduate Dental Matching Program: mid May – October 1

Interview notifications: late October

Program start: Last week of August

Number of spaces available across MSc and PhD
2
Main teaching team

Dr. Peter Copp
We are the only Canadian university that offers specialty training in dental anaesthesia and have been running our program since 1960.
You will learn about the full range of sedation and anaesthetic techniques for dental patients with a focus on deep sedation and general anaesthesia. 
You will also learn how to conduct research in, and teach, dental anaesthesia. You will be expected to participate in a range of clinical teaching experiences, including undergraduate, continuing education, and peer teaching.  
You will be taught in the clinical settings of:
the Faculty of Dentistry 
the Department of Anaesthesia, Faculty of Medicine
Michael Garron Hospital (Toronto East Health Network)
Sunnybrook Health Sciences Centre
the Hospital for Sick Children
Your clinical training includes rotations in internal and emergency medicine, respirology, cardiology, and orofacial pain (depending on individual clinical and research activities).
Your program will include:
12 months at the Faculty
8 months at Michael Garron Hospital 
2 months at the Hospital for Sick Children. 
How you will spend your time
(on average, may vary from year to year)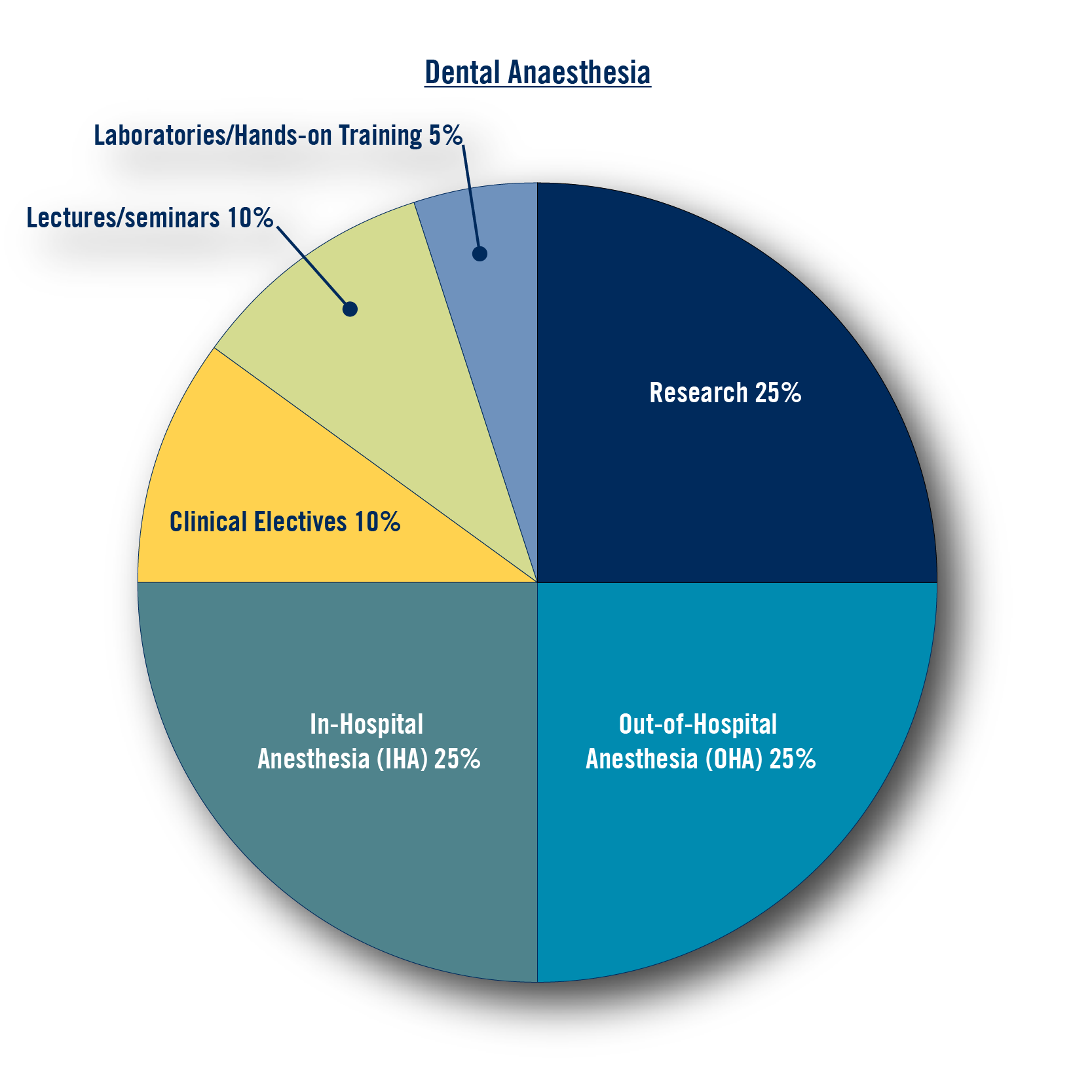 What this program enables you to do
The program is recognized by the Royal College of Dental Surgeons of Ontario. 
Upon completion, you will be able to take the Diplomate examination of the American Dental Board of Anesthesia (ADBA), which is required for registration for specialty licensure in Dental Anaesthesia by the Royal College of Dental Surgeons in Ontario.
How to apply
Follow the standard application process on How to become a specialist dentist.
In addition, you will need to:
Register from mid May – October 1 with the Postgraduate Dental Matching Program. The Dental Match is a process used by many graduate dental education residency programs to place applicants into their programs. It uses an algorithm to match the preferences of applicants and those of the recruiting programs.
Complete an Advanced Cardiac Life Support (ACLS) course before registration in August. You may use any supplier, but Sunnybrook Education also runs these courses.
If you are applying at PhD level
If you are applying for this program at the PhD level, you need to identify an area of research and contact a faculty member before you apply to determine if they are accepting PhD students for supervision.