Oral and Maxillofacial Pathology and Oral Medicine
Overview
This is part of our graduate education: MSc or PhD program with specialist clinical training.
Program director

Dr. Marco Magalhaes

Length of program

MSc: 4 years

PhD: 7 to 8 years

Important dates

Application window: April 1 – September 1

Interview notifications: Mid-October

Program start: First week of July

Number of spaces available across MSc and PhD
1
Main teaching team
As an oral and maxillofacial pathology and oral medicine program student, you will have four-year residency training in clinical and laboratory (microscopic) oral and maxillofacial pathology.
You have the option to study only Oral Medicine as a three-year program. 
You will receive advanced training in the diagnosis and management of diseases of the oral and maxillofacial tissues. You will gain experience in the care of medically complex patients who present with oral disease.
The emphasis is on synthesis of clinical, microscopic and molecular features to lead to optimal patient care.
Learning in clinics, laboratories and seminars
Your program is based in the Faculty of Dentistry and the University of Toronto affiliated teaching hospitals and you will:
Complete a full-year rotation in anatomical pathology that provides core experience in gross and microscopic examination and diagnosis.
Experience rotations in subspecialized areas including head and neck pathology and dermatopathology. 
You will have continuous rotations in oral pathology clinics in various teaching hospitals and short-term rotations in head and neck oncology and hemato-oncology. 
You will be taught laboratory (microscopic) oral and maxillofacial pathology through the Oral Pathology Diagnostic Service at the Faculty of Dentistry. 
You will learn about gross and microscopic examination and using ancillary tests, including immunohistochemical staining and molecular studies to render accurate and timely diagnoses.
Through seminars and lectures, you will develop the knowledge and communication skills needed for effective and safe patient care. 
You will also develop teaching skills as you teach undergraduate students in lectures and small group seminars.
Conducting your research
You will complete a research project leading to a Master of Science or Doctor of Philosophy degree. 
Your research work will be an in-depth investigation into a particular area of interest in the Oral Pathology field and complements your clinical and laboratory pathology training.
How you will spend your time
(on average, may vary from year to year)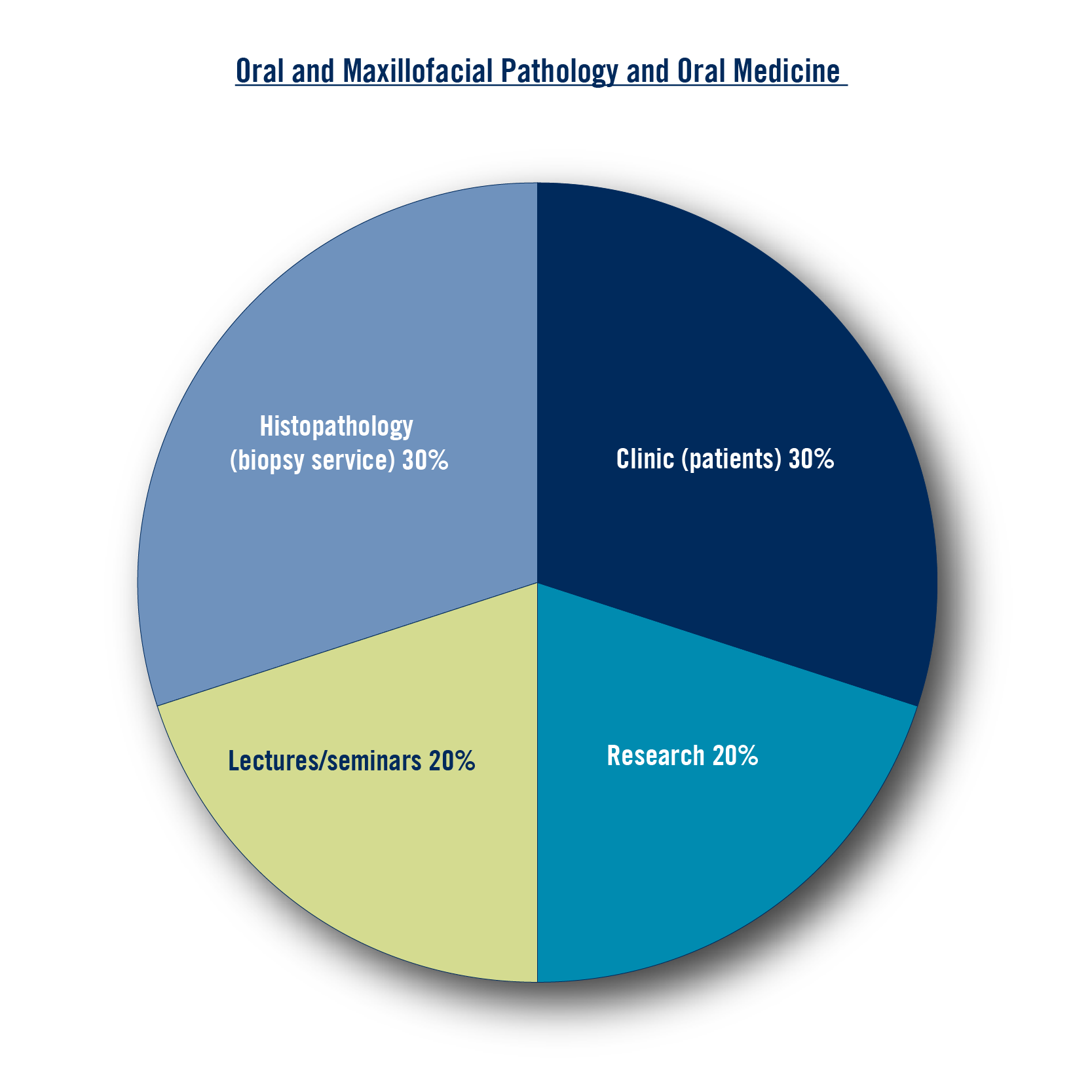 What this program enables you to do
The program is accredited by the Commission on Dental Accreditation of Canada and the Commission on Dental Accreditation in the United States through a reciprocal agreement.
Completion of this program will allow you to take the:
National Dental Specialty Examination in Oral and Maxillofacial Pathology and/or Oral Medicine (the National Dental Examining Board of Canada)
Fellowship Examination in Oral and Maxillofacial Pathology and/or Oral Medicine (Royal College of Dentists of Canada)
Diplomate Examination (American Board of Oral and Maxillofacial Pathology)
How to apply
You must be a permanent resident of Canada or Canadian citizen to apply.
You are expected to have a basic knowledge of medicine and pathology from undergraduate dental education. Postgraduate experience, particularly in a hospital based-general practice residency program, is an advantage.
Follow the standard application process on How to become a specialist dentist.
If you are applying at PhD level
If you are applying for this program at the PhD level, you need to identify an area of research and contact a faculty member before you apply to determine if they are accepting PhD students for supervision.