Orthodontics and Dentofacial Orthopedics
Overview 
This is part of our graduate education: MSc or PhD program with specialist clinical training.
Program director

Dr. Sunjay Suri

Length of program

MSc: 3 years

PhD: 5 years (minimum) 

Important dates

Application window: April 1 – September 1

Interview notifications: Late September – mid October

Program start: First week of June

Number of spaces available across MSc and PhD
4
Main teaching team
Established in 1945, our orthodontic specialty program is the longest running in Canada.
Upon completion of our program, you will be able to provide excellent clinical orthodontic care by having:
the scientific training and clinical skills to make evidence-based treatment decisions; 
the ability to critically evaluate the literature through your research experience; and
a desire to be a life-long learner
You will gain clinical experience through seven different clinical sessions per week under the guidance of experienced instructors. 
Your patients will have dentofacial malocclusions and you will treat them with a variety of:
fixed appliances
clear aligners
growth modification appliances
surgical orthodontic treatments 
You will participate in the management of complex treatments being provided in hospital settings for individuals with cleft lip and palate and craniofacial anomalies, orofacial pain and temporomandibular disorders, by completing rotations at:
The Hospital for Sick Children 
Mount Sinai Hospital
How you will spend your time
(on average, may vary from year to year)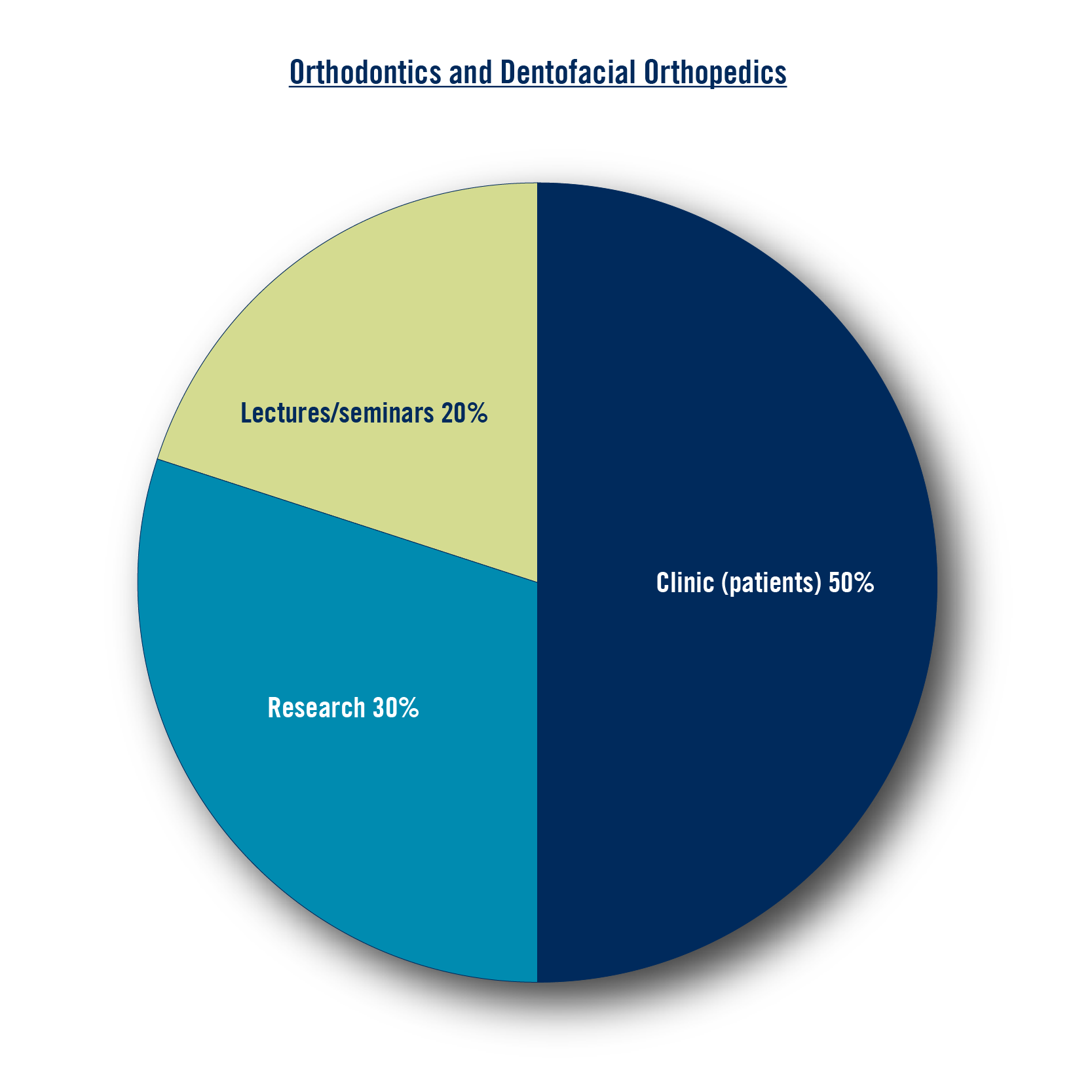 What this program enables you to do
The program is accredited by the Commission on Dental Accreditation of Canada and the Commission on Dental Accreditation in the United States through a reciprocal agreement.
Completion of this program will allow you to take the:
National Dental Specialty Examination (the National Dental Examining Board of Canada)
Fellowship Examination (Royal College of Dentists of Canada)
Diplomate Examination (American Board of Orthodontics)
How to apply
Follow the standard application process on How to become a specialist dentist.
In addition, you will need to:
Have completed one year of clinical experience or residency prior to the program commencement
If you are applying at PhD level
If you are applying for this program at the PhD level, you need to identify an area of research and contact a faculty member before you apply to determine if they are accepting PhD students for supervision.