Overview
This is part of our graduate education: MSc or PhD program with specialist clinical training.
Program director

Dr. Bettina Basrani

Length of program

MSc: 3 years

PhD: 7 years

Important dates

Application window: April 1 – June 1

Interview notifications: End of June - October

Program start: First week of August

Number of spaces available across MSc and PhD
3
Main teaching team
Endodontics covers the:
morphology, physiology and pathology of the dental pulp and periradicular tissues
basic clinical sciences, including biology of the normal pulp
etiology
diagnosis prevention
treatment of diseases and injuries of the pulp and associated periradicular tissues.
You will hone your clinical skills in all aspects of endodontic treatment in this program and contribute to critical bodies of knowledge through your own research. From understanding the underlying biology, to diagnosis and prevention, including topics such as epidemiology, treatment outcomes, and the optimization of root canal procedures.
How you will spend your time
(on average, may vary from year to year)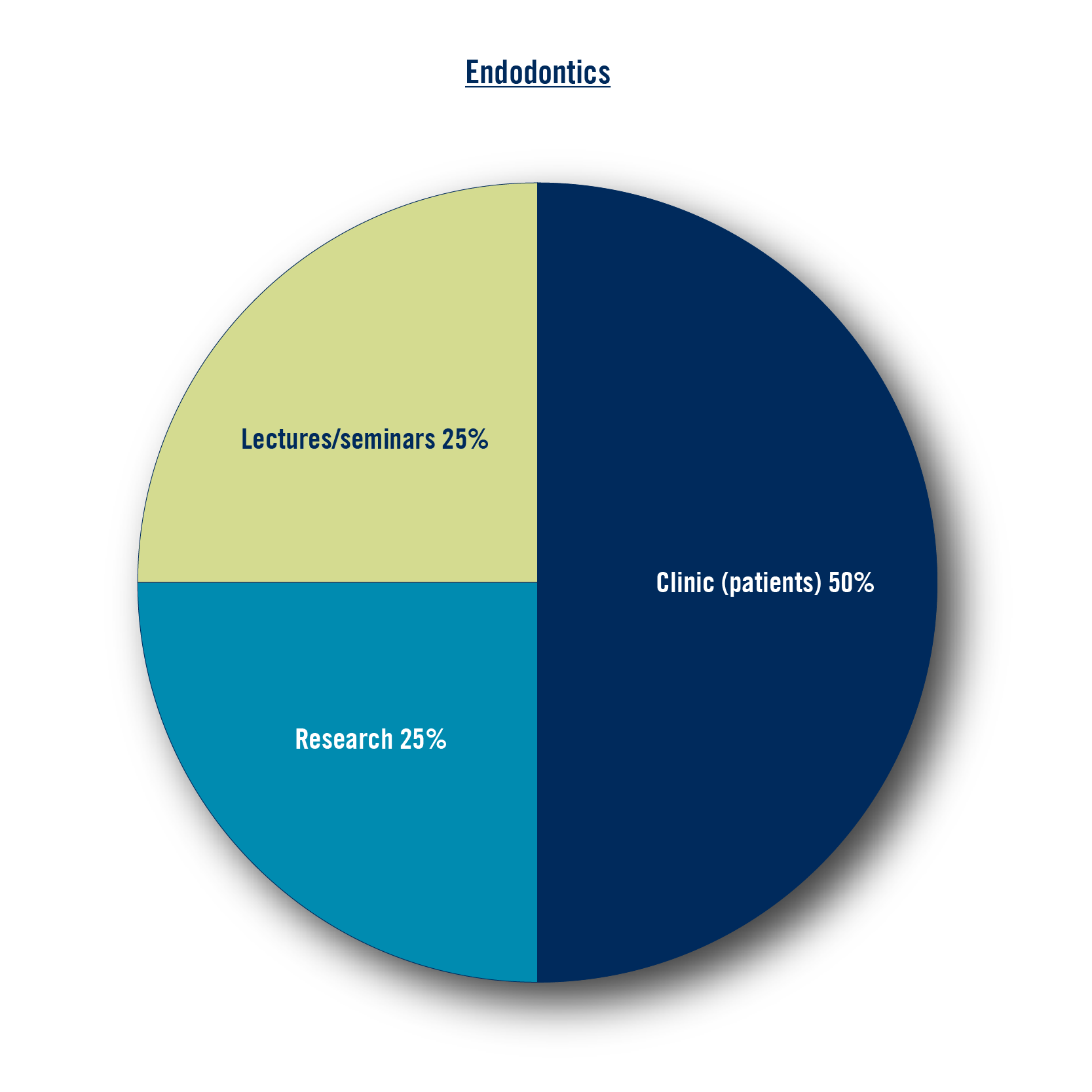 What this program enables you to do
The program is accredited by the Commission on Dental Accreditation of Canada and the Commission on Dental Accreditation in the United States through a reciprocal agreement.
Completion of this program will allow you to take the:
National Dental Specialty Examination (the National Dental Examining Board of Canada)
Fellowship Examination (Royal College of Dentists of Canada)
Diplomate Examination (American Board of Endodontics)
How to apply
Follow the standard application process on How to become a specialist dentist.
If you are applying at PhD level
If you are applying for this program at the PhD level, you need to identify an area of research and contact a faculty member before you apply to determine if they are accepting PhD students for supervision.